News
Aircrafts shortage hit tourists hard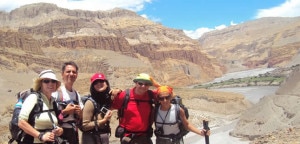 KATHMANDU, Nepal-Lack of aircraft is hitting hard to the movement of domestic and international tourists to and from Himalayan districts of Manang and Mustang while mere two carriers-Nepal Airlines (NA), a national flag carrier and Tara Air conduct scheduled flights to these districts.
NA operates schedule flights from Pokhara to Jomsom of Mustang district while Tara conducts to Manang district, located at an altitude of 3,519 meters.
Both the Mustang and Manang are major religious tourist destinations of Nepal after Lumbani and Janakpur. Travel agencies are facing hard time to manage air tickets owing to aircraft shortage with the flock of Indian tourist visited Mustang during April and June. Further, visitors willing to visit to these places are scratching their journey citing shortage of aircraft.
'we are facing hard time with the onset of peak tourist season as only two companies are conducting Pokhara-Jomsom route and it has affected mostly to the Indian tourists visiting Muktinath temple,' a Pokhara based  entrepreneur said.
Muktinath is a sacred place both for Hindus and Buddhists located in Muktinath Valley at an altitude of 3,710 meters at the foot of the Thorong La mountain pass. Some tourists even opt for difficult land route after they failed to book air tickets to visit the sacred place.
Tourism entrepreneurs complained only one third of tourists travelling to this Himalayan district hardly get tickets while the remaining forced to walk on foot, though daily two flights are operated from Pokhara to Mustang. Sometime, cancellations of flights due to adverse weather has left the tourists furious and forced to take land route. According to Surya Bahadur Khattari , air traffic controller at Jomsom airport flight to Mustang and Manang are only possible in morning.
Manang is located on the wide valley of Marshyangdi river to the north of Annapurna Mountain range. There is no road link to district headquarter Chame till these days and goods are transported via mules or porters. A small airport is serving the whole valley.