News
Thamel wears deserted look following bandh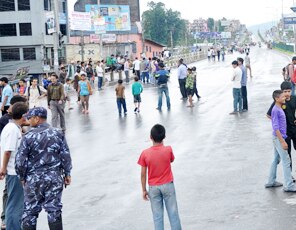 KATHMANDU, Nepal-A bandh called on by Communist Party of Nepal-Marxist Leninist (CPN-Maoist), a faction of United Maoist and an ally of agitating 42 fringe parties has thrown the activities of the tourists out of gear, mostly in Kathmandu valley. Due to strike most of the hotels and shops wore deserted look in Thamel, a tourist hub place, even though a few entrepreneur unlocked their shops as usual defying the bandh. Vehicles bearing green number plates managed by hotels and Thamel Tourism Council for the free movement of the tourists, were plying in the streets carrying foreigners to their destinations.
A few Rickshaw plying in the corners of city were packed with tourists traveling their path, however many foreigners were walking on foot despite bandh coupled with heavy rainfall all through the day. Most of the money exchangers, one of the major sources of transactions for foreigners in Kathmandu were closed. Likewise, a few cyber café were opened partially.
Concerned hotel and Thamel Tourism Council had managed for tourist buses from hotels to airport and other places. Bandha organizers like in the past had allowed plying the vehicles carrying tourists, diplomat as well as water tank and ambulance.
Tourists visiting Nepal have been hit hard and have forced to cut short their trip due to the frequent bandh called on by various political parties and their sister organizations to fulfill their political desires. Earlier, fed up by the frequent strike of the political parties, hotel entrepreneur had forced the leader to sign jointly on the commitment to end the culture of bandh forever after Nepal Chamber of Commerce demanded to do so from the top guns. The big head of the major political parties had committed publicly that they would not call on bandh, however, chucking their own written commitment, the leaders have revived  their past culture.
Meanwhile, bandh organizer have vandalized and torched half a dozen vehicles for defying bandh. All the academic institutions, shops, industrial houses, factories remained close following strike. Commoners and the staffs of the government of Nepal seemed hit hard by bandh since they were walking on foot for a long distance.
Communist Party of Nepal Maxist Leninist (CPN-Maoist), a faction of United Maoist and an ally of 42 agitating political parties have called on the bandh protesting the government's decision to announce fresh date for constituent assembly polls. The government on Thursday had announced fresh CA polls date on November 19.
Meanwhile, tourism experts and business entrepreneur have protest over the Sunday's bandh.