News
Rato Machhindranath chariot ends with vest display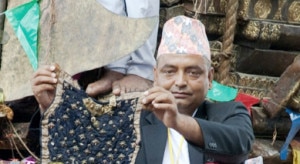 KATHMANDU, Nepal-The final day of this year's month-long Rato Machhindranath Jatra in Patan was concluded Friday by displaying the bhoto (bejeweled vest) of Machhindranath to the public from the Rato Machhindranath chariot.
The bhoto was continuously displayed for few minutes until the real owner came to lay claim it from the crowd, having reliable evidence. The bhoto was demonstrated in the presence of president Dr. Ram Baran Yadav among other crowds thrice in all the four cardinal directions as per the tradition that is being followed from time immemorial.
The Chairman of the Council of Ministers Khil Raj Regmi, Chief of Constitutional Bodies, high-ranking government officials and diplomats also observed the jatra.
The tradition, believed to have been marked since the past 1,600 years usually falls on April-May annually, has been regarded as one of the rare festivals in Nepal for which both the Buddhists and Hindus worship lord Machchindranath as an incarnation of Santa Guru Karunamaya and as Padampani respectively.  There is interesting fable behind this century's long tradition.
According to one of the legends, the black velvet, jeweled vest was bestowed to a Jyapu farmer by Karkotaka Naga in reward for curing eye of his queen. But, unfortunately the bhoto was stolen. After sometime the farmer discovered someone was wearing the same vest when he was  attending Machhindranath festival in Patan.
A quarrel broke out between the farmer and the man wearing the vest. In the meantime, Karkotaka Naga who was also at the festival in human disguise later resolved the quarrel and submitted the bhoto to Machhindranath declaring that whoever produced true evidence could take back the vest. But as none of them could produce proofs, it was put on a public display in the Jatra.
Meanwhile the government of Nepal has announced public holiday on Friday in Kathmandu valley for the jatra. Huge numbers of people from Lalitpur, Bhakatapur and Kathmandu took part the jatra.