News
Heavy downpour affects life, halts flights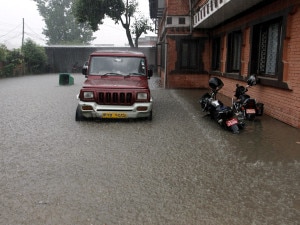 Heavy rainfall on Thursday evening caused flash floods, affecting several roads, houses and the flights in Kathmandu Valley.
The Tribhuvan International Airport (TIA) was shut down for half an hour in the evening due to the heavy downpour. Three international flights were asked to divert after poor ground visibility.
A Qatar Airways flight coming from Doha was diverted to Lucknow in India, a SpiceJet plane coming from Delhi was sent to Banaras, while a United Airways flight from Dhaka was sent back. Also, a number of aircraft were told to hold on before they could land.
"Airlines were asked to divert their flights after 4:45 pm when the ground visibility remained below 500 metres," said an Air Traffic Controller at the TIA. "Eventually, the TIA was closed at 6:10 pm for half an hour." Flights were allowed to land after 6:50, when visibility improved to 3,000 metres.
The pre-monsoon rainfall that lashed the valley for more than three hours was measured at 41.6 millimetres until 5:45 pm on Thursday, officials at the Meteorological Forecasting Division (MFD) said.
"The heavy rainfall completely threw Valley's traffic out of gear," said DSP Pawan Giri, spokesperson of the Metropolitan Traffic Police Division. As traffic jams occurred in most places in the valley, several vehicles were stranded on water-logged roads. "The under-construction road sections further added to the people's woes," Giri said.
Nepal Army personnel were also deployed in several locations after floodwaters inundated and swept away houses. However, no casualties were reported, the Army said.
The eastern and central districts also recorded rainfall on Thursday.
According to Rajendra Shrestha of the MFD, the weather will remain partly cloudy throughout the country on Friday with chances of brief rain and thundershowers at some places in the eastern and central regions. "The cyclonic weather system in neighbouring countries has led to the disturbance for the past couple of days," he said.