News
Miura Vs Serchan: who will regain Everest record?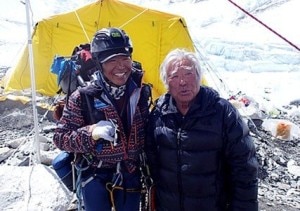 An 80-year-old Japanese mountaineer, Yuichiro Miura reacts to the photographer at an altitude above 6500 meters. Miura is in Everest mission to reclaim his title as the oldest man ever to successfully summit the world's highest mountain.
Miura departed from Everest's base camp at 5,300 meters above sea level on Thursday and Associated Press reported that he is now at an altitude of 6500 meters preparing himself against a high altitude. Miura is hoping to summit the Everest tomorrow.
If Miura succeeds, he will break the current record held by Nepali climber Min Bahadur Sherchan, who was 76 when he summited Everest on May 25, 2008.
However, Sherchan has also set out for the Everest mission.  Serchan, now 82 years, has delayed his mission as he is yet to receive the climbing permit. It is learnt that the Ministry of Tourism is releasing his permit by Thursday. If he succeeds, the now 82-year-old would reclaim the seemingly fleeting glory of being the eldest on Everest beating Miura once again.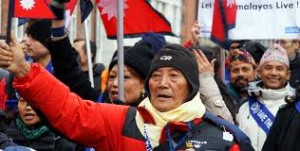 According to Everest News, Miura and his son successfully summited the following day, when Miura was 75. Though a year shy of Sherchan's record, he was able to surpass his own personal record, set in 2003 at the age of 70 — good enough for the world record until it was broken by another Japanese climber in 2007.
Since the climbing opened this season four hundred and 39 have climbed the Everest so far. According to the ministry, the total includes one hundred and 87 foreign and two hundred 52 Nepalis climbers. Since more foreign and Nepali climbers are waiting for the ascent the number is likely to set a record in itself, according to the ministry official.