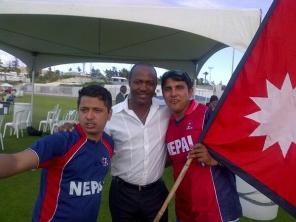 KATHMANDU, Nepal- The proposed Nepal visit of world renowned cricketer Brian Lara has been expected a good news for Nepalese cricket as cricket lovers here hope this would help boost up the performance of Nepalese cricketers with the experiences he shares.
The Nepalese cricket which is doing well in the international tournaments, upgrading its position to Division II in the ICC World Cricket League Division-III held from April 28 to May 5 in Bermuda, is planning to use the visit as an experience sharing moment for the cricketers here.
Lauding Nepali cricketers as champions, West Indies' legendary cricketer has revealed his plans to visit Nepal this year in his twitter post.
"Up @ 3am in the morning going to read a little about Nepal, going there is on my bucket list. This year …," Lara tweeted. Lara – who holds the world record of the highest score in Tests (400 not out against England in 2004) – is regarded as one of the best batsmen the world cricket has ever produced.
This is, however, not the first time that the left hander from Trinidad and Tobago has spoken about Nepal. Lara had expressed interest in Nepal and the country's cricket when the national team was participating in the ICC World Division-III held in Bermuda.
If Lara does visit Nepal he would be the third legendary world cricketer to do so after India's 1983 World Cup winning captain Kapil Dev and batting maestro Sunil Gavaskar. Kapil Dev had visited Nepal leading an Indian Masters team, comprising Atul Wassan, Sandeep Patil and Madan Lal, for the 1999 Tempo World Legends Cup that was held at the Tribhuvan University Stadium.
Last year, India's 2011 World Cup winning captain Mahendra Singh Dhoni had visited Nepal on a two-day trip.
On the eve of May 5 final against Uganda in Division-III, Lara had tweeted: "All the best 2 Nepal in the finals may the best team win. I'm a big fan of urs n Uganda's cricket." Lara had watched the Division-III final, which Nepal went on to win by five wickets lifting their third ICC World Cricket League title.
Lara had also posted a photograph in his twitter account flanked by two Nepali fans with one holding the national flag. In his latest tweet, Lara has hailed Nepal as "cricketchamps" and termed his plan to visit the Himalayan nation "amustdo". Lara, 44, has not disclosed the exact date of his visit to Nepal in the tweet.
Before ending his 17-year stellar career in world cricket, Lara made 11,953 runs from 131 Tests at an average of 52.88 smashing 34 centuries. He has also struck 19 tons from 299 one-day international matches averaging 40.48. Lara has only played three Twenty20 Internationals. He retired from all forms of the game in 2007 with a match against England in Bridgetown.