News
Lack of climbing ethics, commercial expeditions behind Everest clash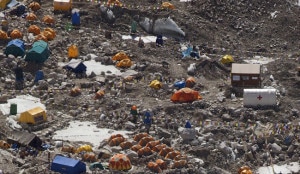 KATHMANDU, Nepal- The unwillingness of climbers to follow ethical guidelines while on expedition is the main cause behind any untoward happening during the mission. This is what the expedition agencies, climbing experts say about last week's notorious brawl between the European climbers and local Sherpas at the base of Mount Everest.
Simone Moro, a well-known mountaineer from Italy and another renowned Swiss climber Ueli Steck accompanied by top British alpine photographer Jonathan Griffith' were involved in a fight with a group of Nepali Sherpas.
Different people have different version on who to blame, but considering the story of the eyewitness it can be said that the result is the outcome of the unethical behavior from the side of Europeans. "The situation was a decision by the Europeans to climb the Lhotse Face' a steep ice wall' while the Nepali guides were rigging up ropes," eyewitness said.
According to the Ministry of Travel and Tourism, the incident occurred after the Sherpas assigned for rigging up the ropes and the climbers on expedition debate over the route. "This is the question of ethics while you are in a journey like mountaineering to be alert and follow the instructions provided to you," the tourism ministry official said, adding the brawl is the result of indifference to the same.
The ministry has already said that the government is investigating the case forming a probe panel.
However, trekking agencies and experts said the incident is also the result of increasing number of commercial expeditions.  "As the number of expedition increases the agencies could not control and abide all the climbers individually," said a Cho-oyu trekking staffs, which also manages the expedition of the team. "Now the time has come to check the number," he said on condition of anonymity, adding that the rising number of climbers and a kind of competition among them selves and operating agencies have increased such incidents. He admitted that the mountaineering waste and the human feces are also the major problems as thousands of people thronged the world's highest peak every year.