News
Samriddhi, Honorary Goodwill Ambassador to Nepalese Tourism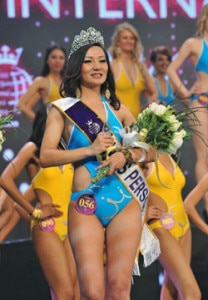 KATHMANDU, Nepal- Samriddhi Rai, who is selected to represent Nepal at Miss Tourism International 2013 being held in China from May 10-18, 2013 has been appointed as "Honorary Goodwill Ambassador of NTB for 2013" by the Nepal Tourism Board (NTB).
NTB, the tourism body in the country said that the appointment of Rai is for her celebrity status and being her participation in the world tourism pageant.
Rai is a title holder of Miss Tourism Queen Nepal 2011 till date; 2nd Runner up – Miss Teen Nepal 2006; Top 5 – Miss Nepal 2010; and Miss Personality – Miss Tourism World 2011.
Subash Nirola, officiating Chief Executive Officer of NTB said that her appointment as a goodwill ambassador will further help promote Nepal in international arena. " We believe that her knowledge and stature will help promote Nepal and its natural as well as cultural treasures in every forum she will be representing nationally/internationally. Her effort in promoting Nepal as a tourist destination will be valuable for us as, well as for our tourism industry in the future," he said.
"We are delighted to announce that Miss Samriddhi Rai – Goodwill Ambassador for Nepal as appointed by Nepal Tourism Board, who had a successful representation of Nepal, bagging the title of 'Miss Personality' during her participation at Miss Tourism Queen World 2011, has yet again been invited back by the international organisers ERM to represent Nepal in their new pageant – Miss Tourism Queen Asia," the NTB said in a press release.
In the spirit of celebration of the pageant's 10th anniversary, the contest this time has been designed to be participated by Asian candidates only of about 40 countries as opposed to more than 120 countries in the year 2011. The pageant is scheduled to take place in Xitang Province of China from May 10- May 18.
Rai who is pursuing a career in music will be singing as part of her talent showcase at Miss Tourism Queen Asia. She had previously managed to reach the 'top 3' in talent round during her previous participation in the year 2011.