News
Sherpa sibling set new record in climbing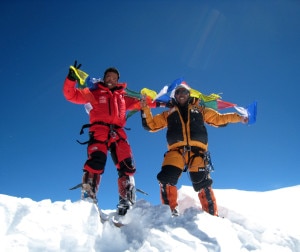 Two Sherpa brothers from a remote Nurbuchaur in Makalu VDC of Sankhuwasabha district in eastern Nepal have set a new record in climbing.  Veteran climbers Mingma Sherpa and Chhang Dawa Sherpa succeeded to set a new world record by scaling 14 peaks of the world above 8,000 meters.
They have conquered Mt. Everest, Manaslu, Makalu, Kanchenjunga, Kanchenjunga G1 and G2, Lhotse, Annapurna, Dhaulagiri, Broad Peak, Dami Kang, Nanga Parbat, Langtang Lirung,  K2, and Shisha Pangma. Chhangdawa attempted the peak while running his 17 years age, whereas Mingma commenced since he was 16 years.
During a programme in Kathmandu on Sunday, Sherpa brothers claimed they were the first Nepali sibling to atop all the 14 peaks of the world above 8,000 meters. Sherpa brothers had commenced to scale the peaks in 2000. Mingma had accomplished his expedition journey in 2011 while his brother Chhang Dawa Sherpa succeeded this year, summiting Shisha Pangma a few days ago.
Chhang Dawa Sherpa is the youngest climber having ever succeeded in climbing the 14 8000ers: he is only 30 years old.
On the occasion, the Sherpa brothers expressed their bitter experience while climbing Mt. K2 out of the 14 peaks they climbed in the world. Record holder climber suffered much after an avalanche hit them at Mt. K2. They further said their climbing attempt was motivated to set world record.
According to sevensummittreks.com, Chhand Dawa Sherpa summit Mt. Shixa Pangma on 30th April 2013 at 11:35 AM. However, the first Nepali to summit all 14 peaks of the world is his brother Mr. Mingma Sherpa. Mingma became the world record holder following his successful ascent of Mt Kanchanjunga in May 20, 2011, just before his 33rd birthday, making him the first Nepali to complete the golden slam of mountaineering. Therefore, this is the first world records to summit all 14 peaks of the world by two brothers.
Along with Sherpa brothers, some thirty one climbers of the world have scaled all the peaks above 8,000 metres of the world so far.
Reinhold Messner, veteran Italian mountaineer, was the first to climb all 14 peaks. It took him 16 years to succeed in his endeavor.  Jerzy Kukuczka, the Polish alpine and high-altitude climber was the second man, after Reinhold Messner, to climb all fourteen eight-thousanders in the world.
In the meantime, climber Sherpa family is preparing to set another new record soon in the mountaineering sector as well. All six brothers in their family are preparing to scale the world's highest peak Mt. Everest simultaneously.
There are eight peaks in Nepal out of the 14 peaks of the world above 8,000 metres.