News
(English) Second National Science Day observed with gusto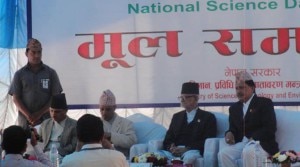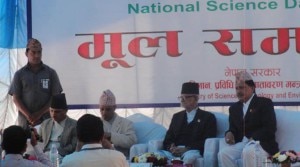 KATHMANDU, Nepal–With the slogan "Science, Technology and Innovation for Sustainable Development", the government observed the second National Science Day on Wednesday.
The Ministry of Science, Technology and Environment organised a function to mark the Day to increase awareness about science and technology with its increasing use and dependency.
Addressing the programme, Prime Minister Sushil Koirala said the government was giving top priority to science and technology. Prime Minister also lauded the achievement and new innovation of science which are used in daily affairs. "No one can imagine the lives sans using the scientific technology as we must depend upon its achievement while performing our daily activities", the premier said.
Stating that science and technology is indispensible for the development of the country, Koirala said the state would provide support as far as possible for its development.
Secretary at the Ministry of Science, Technology and Environment Dr. Krishna Chandra Paudel opined that the nation has leaped out a lot in field of development, innovation and prosperity. He also expressed confidence that the day would promote Nepali scientists, researchers and academies.
Stating that science and technology is a strong means for the socio-economic development of every country, Dr Paudel said development of any country would only be possible if scientific environment is friendly.
The government had decided to observe September 17 as the National Science Day from 2013. The day also commemorates the annual anniversary of ASCOL Campus, the first science campus in the country.
On the occasion, Prime Minister Koirala inaugurated the science lab along with an Observatory Building in the premise of Tribhuvan University (TU), Kirtipur. The office has come into operation from Wednesday.
The Prime Minister also conferred Science Award to five students who secured highest percentage in the SLC under community and institutional category. Likewise, two teachers were also awarded with science prize.
Science and technology exhibition was carried out at the newly inaugurated Science Lab and Observatory Building to let people know about the government´s plan to develop TU as a Science City.
Chief Secretary of the government, high level government officials, professors, scientists, researchers, academicians, students among others took part in the programme.