News
(English) No bar for Migrant workers from entering war hit zones!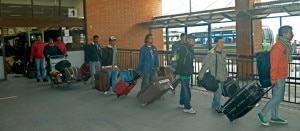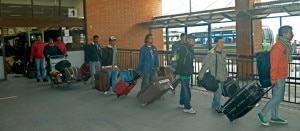 KATHMANDU, Nepal–Though scores of Nepali are reportedly stocking in the war-battered Syria, Libya and Iraq, the government has not stopped issuing permits for Nepali migrants to work there sans measuring security risks there, thanks to the stupidity to officially allow more Nepali youths to go to war zones.
All the three countries are in grip of militia with the Islamic State (IS) ruling large Iraqi and Syrian territories.
As many as 3,000 youths have left for war-hit nations of Asia and Africa in the last six months.
The Department of Foreign Employment issued permits to nearly 2,000 migrants to work in Afghanistan while about 1,000 permits were for African countries.
Afghanistan, a South Asian nation involved in a civil war against Taliban and Al-Qaeda for over a decade, is a lucrative destination among Nepalis for well-paid wages.
An estimated 20,000 Nepalis are working there. Though the 13-year American military engagement in Afghanistan is programmed to conclude by the end of 2016 with complete troop withdrawal, a sizeable number of Nepalis are still going there.
A handful of Nepalis who work in green zones are reportedly facing a little security risk in compared to others who work in risky condition outside.
According to the data of the Ministry of Foreign Affairs, (MoFA), at least seven Nepalis have lost their lives in Afghanistan since 2011 in several insurgents. Most of the victims were working in UN camps as security guards.
The MoFA , admits that it is beyond its means and resources to rescue thousands of Nepalis in emergencies.