News
(English) Hence, no passenger flights via single engine carrier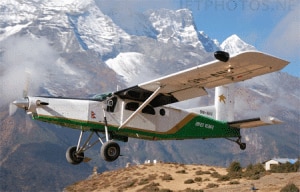 KATHMANDU, Nepal–The single-engine airplanes that served to fly passengers after turning down in cargo flights, will no longer be allowed to carry passengers' flights hence onwards, thanks to the decision of the Civil Aviation Authority of Nepal (CAAN) for banning single-engine planes to carry out passengers' flight in the country.
CAAN, a sole regulatory body to look into the aviation sectors in the country, has rated Sita Air and Air Kasthamandup—that were carrying passengers'  flight to Himalayan region —to cargo airline.
All the single-engine airplanes, and even double-engine of Sita, now will have to carry only cargo hence onwards.
Sita was bumped to cargo due to lack of aviation safety and failing to submit the progress report beside lacking  required documents despite of double-engine airplanes, multiple sources at CAAN told this portal.
The downgrade came to Sita and Kasthamandup in the wake of the renewal of Air Operators Certificate (AOC). Both the carriers have been also charged of failing to meet the existing safety standard. Notwithstanding, the CAAN has also hinted that it would lift the ban if the company get improved.
Travel and tourism entrepreneurs believe that CAAN's measure is likely to hit the travel provider service companies whose cargo business has been dropping down in the recent days. Presently, the airline companies are operating cargo flights round the year to mountainous district Humla and Dolpa where road network is yet to connect.
Such flights are also carried out at the times of natural calamities like avalanche, landslides, floods, earthquake etc.
CAAN has been acting tough after the European Union (EU) blacklisted Nepali airline companies forbidding all the Nepali carriers from operating flights in the EU sky since last December.
The EU had issued red signal to Nepali aviation sector on the basis of certificates, flight operation and flight qualification as per the International Civil Aviation Organization (ICAO) standards. It was also based on CAAN regulations, working procedures, rules and the latest report prepared by the ICAO on Nepal.
In the meantime, CAAN has renewed Air Operators Certificate (AOC) of Buddha, Yeti, Tara, NAC, Simrik Airlines, Makalu, Shree, Goma, Air Dynasty and Mountain Helicopter.