News
(English) 8 killed, 100 more missing in massive landslide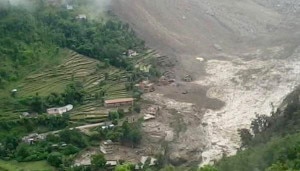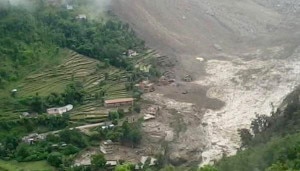 KATHMANDU, Nepal–A massive landslide on Saturday morning has left at least eight people dead and scores injured, blocking the flow of the Sunkoshi River in Mankha village located in Sindhupalchowk district, some 100 kilometers east of the Capital Kathmandu.
The death toll from the landslide is expected to rise further as at least 100 villagers have reportedly gone missing, according to the Ministry of Home Affairs (MoHA).
Chief District Officer of Sindhupalchowk  district Gopal Parajuli said that he was uncertain what number of people were missing in the floods.
"That was the first such massive landslide I had never seen before", photo Journalist Ashok Dulal who returned Kathmandu after confining the images of landslide shared his experiences with  Nepal Mountain Focus. According to him, some people were seemed hurry in collecting goods and other valuables swept away by the floods, taking the advantages of natural calamities.
A huge artificial dam was formed across the river due to the landslide, sparking off fears in downstream villages of a Landslide Dam Outburst Flood (LDOF).  According to the Ministry, the Nepal Army (NA) has used explosives to let the water flow from stilted damp.
The Ministry's data has it that several minor landslides had taken place at the same locality in the past.
Sabin Sharma, an environmental journalist of a national broadsheet daily quoting a geographer and the professor of Tribhuvan University informed this portal that Saturday's massive landslides were mainly the upshot of last year landslides on a hill opposite to human settlements.
Authorities said that the landslide swept away four dozen houses. However, the reports quoting locals claimed that the number of houses buried could be much higher.
Though the government has claimed of deploying security personnel to provide relief to the flood hit people, many villagers were bemoaning at the loss of their beloved ones.
At least three human settlements turned inundated as the dam resulting from the landslide grew larger by the hour.
The landslide started in the wee hours of Saturday. Locals said it sounded like an earthquake in the beginning. "I heard a series of thunderous sounds," a local Sitaram Shrestha was quoted by today's broadsheet daily myrepublica adding that he would have died had he not woken up quickly.
In the meantime, explosions set off by the NA have slightly reduced the risk of flood outburst.