News
(English) Tenzing Chottor: "a story of hope"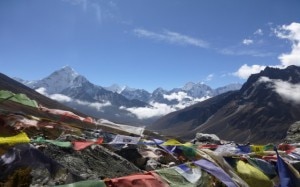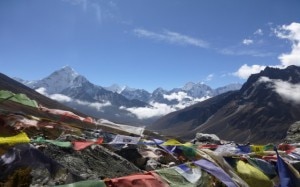 KATHMANDU, Nepal–Until one and half year ago, he used to wander at the private offices in the Capital Kathmandu taking an envelope containing a biodata at his left hand seeking for a job just for the bread and butter. He has enough experiences of knocking the doors of a dozen offices of several companies hoping to get an opportunity for a work thus he could earn his livelihood in this "crowded city."
Born in the distant village of Thame in Solukhumbu district, located in the eastern province of Nepal, Tenzing Chottor went through many ups and down from his early childhood. He had to endure the grief of his father's untimely demise. He did not get a privilege to go to expensive boarding school due to the poor economic condition. However, a foundation did not let his interest of studying die.
Adopted by Benoit Chamoux Foundation, a nonprofit charitable organization, established to serve the orphan children of mountaineer who missed or killed during the course of various expeditions in Nepalese peaks, Tenzing was one of first batch students to be enrolled in Ananda Kuti School, Kathmandu.
Tenzing, who passed his SLC from Anandakuti in 2006, joined Golden Gate College in 2009, with Hotel Management as major subject. He went through vocal training before joining Bachelor in Hotel Management as soon as he completed his intermediate level. "But I could not continue my Bachelor level due to various reasons and subsequently quit the study", he admits. Why did he drop out the course when he was being supported by the foundation in many ways? No matter how hard he worked, Tenzing could not pass the exam and eventually gave "full stop" to academic study.  "Though he was hard working, disciplined and friendly among his colleagues, he didn't succeed and quit his study to take cook training ", a friend close to him says.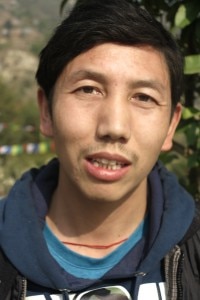 "Since he couldn't give continue to study, we managed to look for a job that would be matched as par with his capacity", Pasang Sherpa of Himalayan Trust says adding Tenzing got plenty opportunity in Gokarna Forest Resort in the outskirt of the Kathmandu with the support of the trust members.
"Due to various reasons I give up BTHM, nevertheless, joined in Gokarna Resort soon after receiving six months job trainings" Tenzing shared his experiences," I realised from my early childhood that I had to stand on my own feet."
He was happy enough for getting a cooking job as he did not need to worry about bread and butter hence onward. Yet, he was looking further for ways to make more money.  Perhaps he was still feeling difficult to manage everything with mere salary.
One day he saw a vacancy at daily newspaper calling catering service at Qatar Airlines. Tenzing along with other three staffs of the hotel find them suit and apply for the post with attached certificates and other biographical details. "To my wonder I was selected in the short list, my happiness knows no bound when I was nominated for cook in celebrated airways like Qatar Airlines", Tenzing shared his light moment with Nepal Mountain Focus.
In fact Tenzing was planning to toil in gulf countries, but his selection in Qatar Airlines took U–tern in his life. "While serving at Gokarna I was also mulling over to go abroad mainly in gulf countries for the works so that I can make more money", a bit ambitious Tenzing says, "Now I am satisfied and glad."  According to him, it is comparatively easier to be engaged in hotel and tourisms sectors as it has creating huge employment opportunities in the country.
"I will certainly apply for the senior posts in  multinational big companies in future after receiving better experiences in the Qatar Airlines", the 25 years old said.
Even though he could not garner the certificates of Master and Bachelor levels, he is fully satisfied with what he has achieved. He gets 0.1 million per month salary which is relatively high while per capita income of a Nepali hardly stands at $742.
Behind every successful person, there is somebody whose support becomes instrumental for him. Family, teacher or well wishers, among others, are usually there to back a person forward towards his life goals.  It was also the case for Tenzing. "I was lucky enough to have such an opportunity from the Foundation," he proudly says.
"Wherever I make trip to foreign land in course of my work, all the credit goes to Foundation, its founder Fabienne Clauss, incumbent President Agostino Da Polenza and other dignified people who extended their helping hands to me", Tenzing said, " Hadn't there been the Foundation, as a porter I would have been carrying the bags of foreigners in my own village. In fact the Foundation has been giving a right track till these days. My success and achievements all go no other than the foundation and its members. May god bless founder Fabienne Clauss and its President Agostino Da Polenza!"   He also expressed his gratitude to the foundation members for their generosity.
Hearing his selection in Qatar Airlines, Fabienne Clauss was much glad. "First off all I shared the news to Fabienne who lauded me for my success to stand on my own foot," Tenzing says.
Tenzing wishes to support the foundation whose loving care and support have brought him today in this position. He says that wherever he stands today, it is because of the credit of the Foundation and above all his honesty that he maintained throughout all the situations.