News
(English) First Nepali women expedition team left for Mt. K2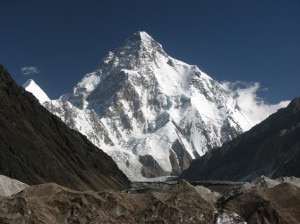 KATHMANDU, Nepal–The 'First Nepali Women Expedition to K2 2014' comprising three young women climbers– Maya Sherpa, Dawa Yangzum Sherpa and Pasang Lhamu Sherpa –left for Mount K2  in Pakistan.
With a message of 'Women Climbing for Climate' the team is in its attempt to become the first all-women team from Nepal on the top of Mt. K2, the second highest mountain on earth, the expedition team left for the peak on Thursday evening.
The goal of the expedition is to raise awareness about climate change and sustainable development in the Himalayas.
It is estimated that the expedition will take about 65 days from mid-June to the end of August 2014, starting from Kathmandu.
Upon reaching their goal, the team will place ICIMOD's banner on the summit. During the expedition, the team will also document and record material on mountain women and climate change.
About team members 
Maya Sherpa
Maya Sherpa started her climbing career as a national weight lifting competitor, a sport in which she reached the finals several times. After completing basic and advanced climbing courses organized by the Nepalese Mountaineering Association, Maya started working as a climbing guide. She has been involved in various international Himalayan expeditions including to Everest North and South, Lhotse, Cho Oyu, Shishapangma, Baruntse, Pumori, Khan Tengri, Ama Dablam, and several trekking peaks. Maya has also climbed Mt Everest twice, in 2006 and 2007.

Dawa Yangzum Sherpa 
Dawa Sherpa is an ultra marathon runner, high-altitude long-distance runner, and mountain climber. In 2010, she completed the 350-kilometre Everest Sky Race and secured second in the female division. She has also completed the gruelling 350-kilometre Annapurna Mandala Trail. Dawa was the first female to summit Everest from Rolwaling Beding.
In 2011, Dawa was first runner up in the fifth National Climbing Competition and, in 2012, she won the first International Federation of Sport Climbing (IFSC) National Open Lead Climbing Competition. She was also the first Nepali female to complete the Climbing Rescue Ranger's course at Mt Rainier in the United States. Dawa climbed Yala Peak in 2009 and 2010, Ama Adablam in 2011, and Island Peak, Grand Peak, Grand Tetons, and Chiki Go in 2010.

Pasang Lhamu Sherpa
Pasang Sherpa started climbing in 2001 as a sports climber. After completing her mountaineering training in Nepal, Pasang scaled Mt. Everest from the Tibet Autonomous Region. She has also climbed Yala Peak, Nangpai Gusung, Ama Dablam, Mt Putta Hiunculi among other small peaks.
Pasang has alsoundertaken mountaineering courses in France, where she climbed numerous peaks. Pasang was the first Nepali women to climb Nangpai Gosum (7,321 m). She is also the first Nepali female mountaineering instructor.
In addition to working as a mountaineering instructor in Nepal, Pasang  also instructs mountaineering in Nepal and the United States.