News
(English) Entrepreneurs for trekking trails' promotion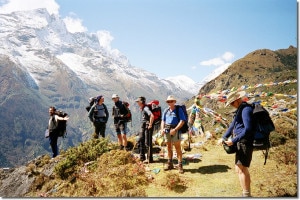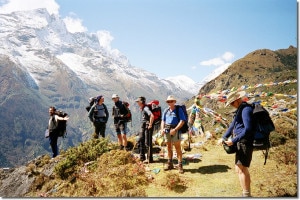 KATHMANDU, Nepal–Trekking entrepreneurs have asked the government to develop required infrastructures like road, trekking trails, bridges hotels and supply of drinking water electricity in areas which bear huge tourism potentiality.
At a time major political parties and their top guns were facing criticism of allocating budget only for the development of their concerned constituencies bypassing tourism sectors having great potentiality, the entrepreneurs demanded the government to focus their attention on the development of trekking and tourism sectors that contribute huge amount in terms of total revenue collection.
They have also asked the Tourism Ministry to end the culture of permit system in controlled trekking areas where local people frequently bar tourism activity by imposing syndicate system. Recently, locals in the mountainous district Mustang prohibited vehicles carrying foreigners demanding high amount of travelling tariffs against the existing laws.
Trekking sectors have long been neglecting since many years due to the lack of proper policy and increased reluctance on the part of policy makers who are in decision making level.
"The government is always focusing on trekking areas like the Everest Region, Annapurna Region and Langtang neglecting other other areas having huge tourism potentials", myrepublica quoted Keshav Pandey, senior vice president of TAAN as saying.
Trekking experts have of the opinion that the government should allocate budget to promote those areas which are being sidelined and overlooked to lure more foreign tourists.
The government annually announced news trekking routes are constructed mainly for the convenience of trekking travelling in those areas; however they easily fall into peculiar place due to the lack of facelift and necessary publicity.
New trekking routes like Syafrubesi-Ganesh Himal- Manaslu, Khaptad-Rara-Jumla, Jumla-Dolpa and Taplejung-Kanchenjunga Base Camp- Dhankuta is in dire need of publicity, according to entrepreneurs.