News
Mountaineers left with lurch at Lukla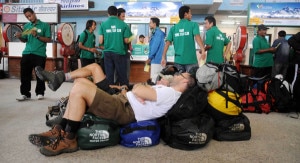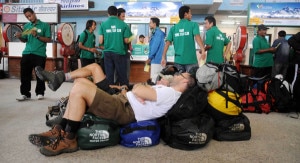 KATHMANDU, Nepal– Foreign mountaineers, who were forced to return after quitting their Everest bid following the incident took place due to April 18 avalanche, are left with lurch in the foothills of Mount Everest.
They are stranded at the Tenzing-Hillary airport in Lukla – the gateway for trekkers wishing to scale the world's tallest peak– while fights were put off for the past five days owing to adverse weather condition.
Mountaineers returned from the Mt. Everest base camp thronged the airport terminal expecting to return to their destination are deserted due to the disruptions of the flights due to thick fog and light rainfall.
Although, no actual figures of the stranded tourists were had, national news agency RSS quoted, Lukla based station Manager of Tara Airlines Phunuru Sherpa as saying that hundreds of passengers, mostly foreigners have been hit hard to continuous disruption of flights.
Officials at the Ministry of Culture, Tourism and Civil Aviation confirmed that flights between Lukla and Kathmandu have been grounded for nearly a week.
Along with foreign trekkers, Nepalese guides and porters are among those that have been stuck in the remote, mountainous region for five consecutive days. Hotels are reportedly overflowing and food is scarce with the flow of tourists wait for a flight.
All flights of Sita Airlines, Simrik Airlines, Nepal Airlines and Tara Airlines were cancelled for the past five days.
Businessmen at Khumbu area are worried due to flights disruption during summer season.
Lukla, which lies at a height of 9,186 feet, is situated about 78 miles northeast of Kathmandu. It is airport is one the busiest airports in Nepal and one of the dangerous airport in the world.
As many as 55 flights a day touchdown in Lukla during the Everest region's peak season from September to November.
Last November, authorities had rescued over five dozen stranded tourists from Lukla airport.
Tens of thousands of trekkers and climbers pay visit to Solukhumbu region in northeastern Nepal each year. Most begin their adventure at the small, windswept resort town of Lukla.
.