News
(English) EV-K2-CNR playing crucial role in mountaineering research: DNPWC chief Dhakal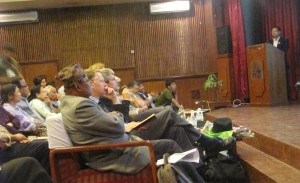 KATHMANDU, Nepal–Chief ecologist at the Department of National Parks and Wildlife Conservation (DNPWC) Dr. Maheshore Dhakal said the government is ready to collaborate with international organizations to expedite research work in Sagarmatha National Park (SNP), a protected area in the Himalayas of eastern Nepal that is dominated by Mount Everest, the highest peak in the world.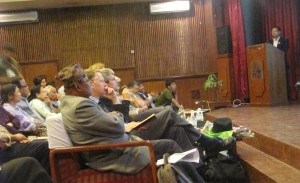 Addressing a symposium jointly organized by Central Department of Botany, TU, Kirtipur and Nepal Tourism Board (NTB) on Sagarmatha National Park: The World Heritage Site, Climate Change and Vulnerability, Wednesday, Dr Dhakal lauded the role of EV-K2-CNR for carrying out research in Sagarmatha zone. "leading research organization like EV-K2-CNR is playing a vital role in mountaineering research in Nepal", Dr Dhakal said while delivering a slide presentation on Emerging Issue in Sagarmatha National Park: Challenge and Opportunities.
Stating that the Park was transformed into the most attractive destination to international tourists, Dhakal said the zone has been offering income and employment opportunity to local communities.
On the occasion, he informed that the trend of foreign tourists visiting the region was continuously increasing. As per the stats of the Department there were as many as 550 lodges in the Sagarmatha zone in 2007, which is comparatively more in number in contrast to a handful of 17 lodges in 1978. Dr. Dhakal expressed worry that major lakes like Gokyo Tso, Imja Tso, Dick Tso in the region are being melted due to global warming and climate change.
During the programme Dr. Mark Watson of Royal Botany Garden at Edinburgh gave presentation on "Understanding the Biodiversity of Sagarmatha National Park".
Prof. Dr John All from Western Kentucky University, Dr. Christoph Scheidegger, Dr. Krishna Shrestha of Botanical Garden, Professor Dr. Ram Prasad Chaudhari of Tribhuvan University among other dignitaries discussed on relevant issues like biodiversity of Sagarmatha National Park, effects and consequence of climate change, protected areas among other topic.