News
(English) Seven deadly air crashes within four yrs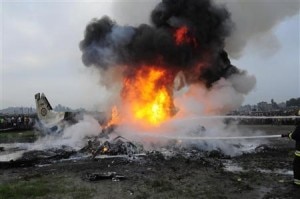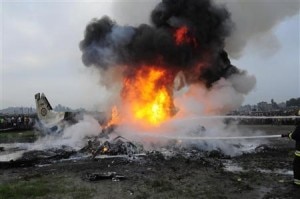 KATHMANDU, Nepal–Fourteen months after a Lukla bound Sita Air Dornier 228 fell into the banks of the River in Bhaktapur, a few minutes after takeoff from Tribhuvan International Airport(TIA) in the capital Kathmandu, killing all 16 passengers and 3 crew members on boards, another Jumla–bound plane belonging to Nepal Airlines Corporation (NAC) crashed in the mountain of Arghakhachi district located in the western province of Nepal killing all 18 people including a Danish national and three crew members on Sunday.
In Sunday's crash, most of the passengers are said to be government staffs heading towards their concerned offices.
Plane crash news have become common in the country in the latest years. Dozens of overcrowded buses skid off the roads or plunging into the stream or collide with other vehicles, however, the news of deadliest plane crashes occurring frequently  in the Himalayan nation have force the commoner to overlook the former incidents.
Inexperienced pilots, poor management and weak regulatory structures are some of the major reason for so many plane crashes in the country, according to the experts. While some crash appears to have been due to a technical problem a few are caused by bird's strike in the sky.
There have been seven deadly air crashs in the country in just over four years, killing dozens of people.
15 of the 21 passengers and crew members on board of an Agni Air flight were killed when another Dornier 228 hit a mountain near Jomsom airport in May 14, 2012 .  A probe panel formed to investigate into that incident showed that the crew was distracted by a landing gear failure signal.
In October 2011, six people were killed when a military rescue flight from Nepalganj to Kathmandu went off course during night and collided with the mountains near Dhorpatan wild life reserve.
To recall, just a month before that, a Mt Everest sightseeing flight returning to Kathmandu from Lukla hit a slope of hill near TIA in Kathmandu killing all 14 on board.
In December 2010, 22 crew and passengers, most of them pilgrims from Bhutan, were killed when a Twin Otter hit a mountain after takeoff from Lamidanda in Khotang district.
In 2009, another ill fated Lukla-bound Agni Air Dornier 228 met accident after turning back to land in Kathmandu following cloudy weather.
Likewise, in November 2008, a Yeti Airlines Twin Otter crashed on the entrance of the runway at Lukla, killing 14 passengers, mostly German tourists.
Since 1946, there have been 48 air crashes, 32 of them fatal in which 701 people were killed, according to Air Safety Network in Nepal.