News
(English) Project to end human-wildlife clash on cards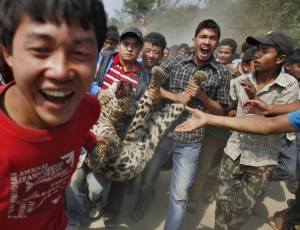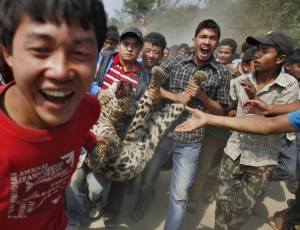 KATHMANDU, Nepal–At a time retaliatory killings of big cats by human are  escalating in the capital Kathmandu, the National Trust for Nature Conservation (NTNC) and the Department of Forests under the Ministry of Forest and Soil Conservation (DoFSC) have made a deal  to launch a special project to forbid human-wildlife conflict in and around the capital Kathmandu.
The project to be carried out shortly at the initiations of the Department of Forests and Department of Wildlife will lessen human-wildlife clash in and around the valley besides carrying out rescue operation and rehabilitation of wild animals that feel threatened due to potential retaliatory attacks from humans.
As per the plan various awareness-raising and educational programmes will be carried out apart from necessary training for rescue operation of rare wild animals while District Forest Office and the Central Zoo will coordinate with each other on behalf of the DoF and NTNC.
The authorities will also work in close coordination with security agencies and other no-governmental organizations. The project, which will last till 2016, will be carried out under the World Bank-funded programme 'Strengthening Regional Cooperation in Wildlife Protection in Asia'.
Retaliatory killings of wild animals after entering human settlements are common in the Himalayan country. Likewise, human settlements adjoining the park and the capital Kathmandu are under the constant fear of animals' attack.
Earlier in March locals in the capital Bhaktapur backed by government authorities had beaten a leopard with stick to death in Gothatar area of Kathmandu.
The leopard was said to be moving around Pashupatinath Temple and Gothatar for a week and had mad prey four cattle.
Officials from the Central Zoo and District Forest Office had admitted that they 'had to slain' the leopard after their hours of effort to capture the big cat went in vain.
Wild life experts have long been stressing the need to curb wild beast by setting up check posts near the parks and suggested that government should not back the retaliatory killings of wild animals. However, all the animals entering the cities are not belonging to certain park and reserve areas.
Animal experts have of the opinion that wild animals are gradually eroding human settlement searching for prey. 'It is the echo system of nature, even a snow leopard is descending from the peaks seeking prey due to climate change,' an official at the Forest Ministry said.