News
(English) Expo on climate change gives global warming awareness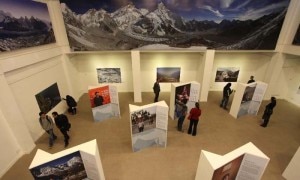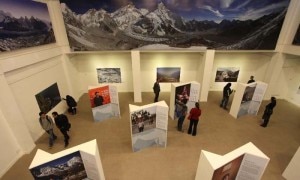 KATHMANDU, Nepal – An exhibition organized here has showcased various photos and interactive items that highlight challenges faced by natural landscapes, ecosystems and communities in the face of climate change across several national boundaries.
Mountains in the country are losing their snow caps due to global warming and pollution caused by the extensive use of fossil fuels. Though the photos taken in the early nineteenth century show mountains covered a thick layer of snow, similar photos taken a century later reveal bareness in these mountains, as most of the snow had melted forming lakes on their foothills.
Photographs taken by Edward Oliver Wheeler, for instance, who was part of the first topographical survey of Everest in 1921, show snow-capped mountains in the Everest region. However, in the recent picture taken by David Breashears in 2008, these mountains do not retain the same quantity of snow mass and look bare.
Pollution and the growing deposit of soot particles in the atmosphere are behind loss of snow from the mountain peaks, experts said at an interaction organized as part of the exhibition.
Journalist and environment expert Kunda Dixit said, "Climate change has effects that we can't even think of." "Everything —be it rainfall, agriculture, migration or women—has to bear its effect. The failure of the rain fails agriculture, which hampers earning of men who migrate to India hence women are to suffer," he said, adding that tackling climate change needs efforts from all individuals.
"We don't have to think about saving the earth from global warning, it's high time we realize we have to save ourselves," Dixit said.
Participants at the programme also discussed necessity of government subsidies for renewable energies.