News
Nepal joins hands with India on tiger conservation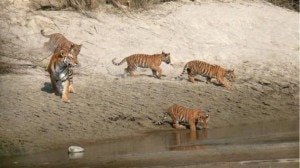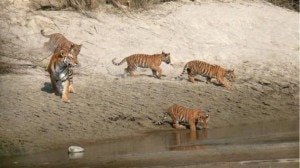 KATHMANDU, Nepal- Nepal is working with India in its efforts to save the globally threatened animal, tigers. Encouraged by the remarkable growth of its tiger population over the past few years, the country has collaborated with its southern neighbor for joint conservation efforts for the endangered big cats.
Nepal is working with a plan to doubling its tiger population by 2022.
The latest tiger census puts the number of Royal Bengal Tigers, or 'Pate Bagh' in Nepali language, at 198. In 2009 there were only 121 tigers, which grew by 64 per cent to 198 in 2012. Nepal has launched the tiger conservation projects in its five protected areas that lie mainly in southern plains bordering to India in collaboration with the World Wildlife Fund (WWF).
The tiger is regarded as an endangered animal and is listed in the Convention on International Trade in Endangered Species (CITES).
Though the population of tigers has declined globally, Nepal and India have succeeded in preserving the big cats with intensified conservation efforts.
Nepal, with its recent collaboration with the India has aimed at achieving the most accurate data on tiger population in all 11 protected areas along Nepal-India border, according to World Wildlife Nepal (WWF) Nepal office.
India has the largest number of wild tigers in the world, with an estimated 1,700 to 1,900 big cats.
This will be the first time that Nepali and Indian conservation authorities are matching the tiger populations in their respective tiger reserves. A team of experts including WWF Nepal staff is visiting India this month for matching the number of tigers in the protected areas along Nepal-India border, Narendra Pradhan, conservation expert with WWF Nepal was quoted as saying by the Times of India.
The effort will not only help to avoid duplication of tiger counting but will also help in protecting the endangered animal, says Pradhan.
Both Nepal and India are using the camera-trapping method for monitoring the tiger population, Pradhan said.
Another purpose of the study is to see whether Nepal's tigers cross into India in search of prey or vice versa.
According to the news report, there should be well protected corridors for the tigers to travel from one park to the other as they breed faster if two or more protected areas are connected.
Experience show that tigers preserved in isolated areas do not breed in large numbers.
A new approach in tiger conservation has also been introduced with the Terai Arc Landscape (TAL), which covers all the major protected areas of Nepal.