News
Hundreds of domestic aircrafts linking southern belt grounded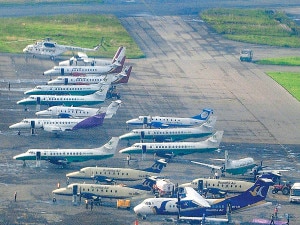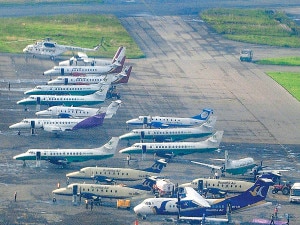 KATHMANDU, Nepal–Hundreds of the domestic aircrafts have been grounded for a couple of days due to adverse weather condition. All the domestic flights from Kathmandu to southern region have been put off triggered by cold wave and dense fog there.
'Flights to southern belt have been called off following heavy mist and the service will be resumed as soon as the environment get improved there', officials at Tribhuvan International Airport (TIA) said.
Hundreds of travelers were affected particularly those planning to observe Maghi, a typical festival of Tharu people in the terai region.
As many as half a dozen aircraft carry out more than one hundred domestic flights to terai region in the southern part of the country from the capital Kathmandu on daily basis.
According to Airline Operators Association of Nepal (AOAN) over 100 domestic flights operated daily from Kathmandu are scheduled for tarai districts.
All the flights of Nepal Airlines Corporation, Sita, Yeti, Buddha, Simrik, and other airlines to Bharatpur, Biratnagar, Nepalgunj, Bhairahawa, Simara, Bhadrapur, Janakpur and Dhangadi have been cancelled for three days following poor visibility of the ground triggered by foggy environment.
Though Kathmandu airport had relatively fair visibility but it was worse in Bhadrapur, Janakpur, Biratnagar, Nepalgunj  Simara and Dhangadhi, according to airport officials.
Normally flights are operated when ground visibility is 5,000 metres at most airports, however, planes can take off and land during 2,500-metre visibility by employing particular visual flights rules.
Buddha airlines forced to put off all 19 flights to tarai on Tuesday alone while Yeti also had its 16 flights cancelled on the very day.
The companies operating domestic flights have 19-72 seater planes.
The travel, trekking and tour companies are suffering heavy losses as the number of cancellations has been increasing each day due to adverse weather condition.
'Due to frequent flight cancellation airlines operator incur millions or rupees loss each day  in winter  season' a Thamel based travel operator told NMF.
The terai also known for Madhesh region which is reach in its indigenous languages and culture begins at the Indian border and includes the southernmost part of the flat.
The Meteorological Forecasting Division stated that it will take another few days for the weather to clear as the cold wave is moving toward the east from western Nepal.