News
CAAN amends rule with full power to its DG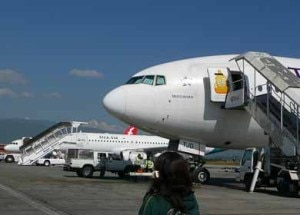 KATHMANDU, Nepal – Designating full autonomy to the director general to regulate and enforce air safety and security measures, the Civil Aviation Authority of Nepal ( CAAN ) has amended its Civil Aviation Regulation.
By now, the director general will have full power in areas like air safety, airspace regulation, setting aviation standards, licensing of airlines, pilots, engineers, air traffic controllers.
The CAAN head also will have the power to seek financial and other information from airlines, and conduct investigations, issue directions, seize and punish operators if they fail to comply with its orders or directions.
While the CAAN officials are saying that were not able to act properly due to lack of adequate laws, the European Commission has banned the Nepali domestic airline companies to operate flights in its member states' sky and to carry their citizens.
To overcome with such, the CAAN amending its 2002 regulation, incorporated a new Human Resource (HR) policy that allows it to recruit experienced individuals for regulatory purposes at industry standard salaries.
The lack of full power with the CAAN chief and shortage of qualified manpower were the major issues raised by EC and the International Civil Aviation Organization (ICAO) during their annual audits.
The regulation was amended through a minister-level decision on Sunday, while the HR policy was endorsed by the CAAN board two weeks ago, a report on Kantipur daily said.
The amendment in the regulation will reduce the Civil Aviation Ministry's "influence" in the sector to some extent.
Among the eight critical elements—primary aviation legislation, organization, licensing, operations, airworthiness, accident investigation, air navigation services and aerodromes—the ICAO audit has identified deficiencies in legislation, operations and organization.
In 2009, Nepal's rate of non-compliance with the eight areas audited by ICAO was 57 percent compared to the world average of 41 percent.
The global figure dropped to 39 percent in 2013. Experts said Nepal exhibited poor performance by bringing down the non-compliance rate by a mere 12 percent points in five years.