News
Daredevils walk on cable car wire 1,200ft above Mont Blanc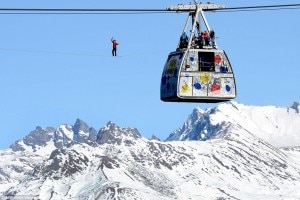 KATHMANDU, Nepal – Defying gravity 380 metres above ground, Julien Millot and Tancrede Melet, two of the most skilled highliners in the world, walked a line on the the Vanoise Express cable car between the snowy mountain caps of the French Alps last week.
The two Frenchmen, who have battled highlines around the world, balanced on the line, only 2.5 cm wide, which linked two cable cars as part of an event celebrating the 10 year anniversary of the Paradiski ski resort and its Vanoise Express transport system, agency reports said.
Millot, who lists rock climbing as his first love, is an experienced highliner as well as a keen base jumper and paraglider, dailymail reports in its online edition adding that, a highline is a type of tightrope walk which is done on a slack line strung between two points. It was inspired by artists who walked on cables that were fixed between points thousands of feet in the air.
"We're all scared of heights. It can show differently on different people. What is common to both of us is that, despite being afraid of heights, we love to play with heights on a daily basis, we like to confront ourselves to heights whether by being on the highline or jumping and with our friends we use heights becasue we want to make the most out of nature," Julien Millot was quoted as saying in a youtube post.
The line crossed by Millot and Millet was 60 metres in length.
"We have no choice but to trust our equipment because it's our lifeline. Our approach is to go step by step. We don't overestimate or underestimate ourselves, we just do what we can when we're ready. Julien and I are both engineers so we are rigourous with the installations and it allows us to have a clear mind and avoid any dangerous hazard," said Tancrede Melet.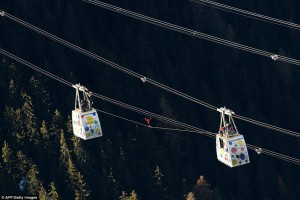 Julien Millot and Tancrede Melet have also created a documentary called I Believe I Can Fly which details their amazing exploits on tightropes and slacklines across the world.
Using their skill and experience as climbers, the pair challenge themselves to complete higher and more difficult stunts.
Released in November, the film shows the group balancing and bouncing on slacklines in remote areas in mountain ranges in Chamonix, France, in Norway, as well as walking barefoot on lines above Paris held only by one safety rope.
The record of the longest highline walk is held by Jerry Misewski who completed a 704ft walk in America this October.