News
Fliers relieved of long queues as airlines begin e-ticketing with airport tax in it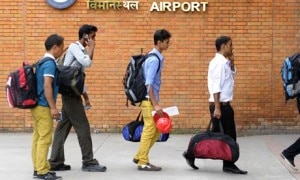 KATHMANDU, Nepal – Travellers who have to stand in long queues before boarding the aircrafts in domestic route for paying the airport tax, now enjoying relief as most of the domestic carriers have begun e-ticketing system with airport tax in it and remaining all are planning to adopt the system by coming month.
The Civil Aviation Authority of Nepal (CAAN) has ordered domestic airlines to include the passenger service charge (PSC) in e-ticketing starting January 15, 2014. The new provision is also applicable for helicopter and single-engine aircraft services which still do manual ticketing.
The CAAN has decided to implement the system nationwide after it found the PSC system enforced in Kathmandu from July 16 successful.
"By including the tax in the price of the ticket, passenger queues will be shorter at the airport and it will also reduce hassles," officials at the Tribhuvan International Airport said.
The service fee depends on the distance covered. The airport tax on all domestic routes from Kathmandu is Rs 200. However, some airports on remote sectors like Simikot-Nepalgunj charge only Rs 5 as airport tax.
Normally, airlines have to deposit a month's airport tax in CAAN's bank account as a security deposit based on the seat capacity of their aircraft. Under the new provision, airlines will be required to deposit 15 days' airport tax.
The PSC system was implemented at all international airlines five years ago.
According to TIA, 12 domestic airlines, including helicopters and single-engine aircraft companies, received 1.575 million passengers in 2012. The Nepali skies saw 70,877 flights in the review period.