News
Recognize tourism sector a national priority industry: Experts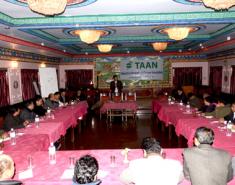 KATHMANDU, Nepal- Representatives of several trade associations have stressed the need to make joint initiations to recognize tourism as a national priority industry. At a time tourism sectors is being paralyzed due to the frequent strike and bandh in the names of various political parties or group to fulfill their vested interests, the representatives have also pointed out the necessity to form a joint coordination committee to lobby with policymakers on issues related to tourism industry.
During an interaction programme, organized by Trekking Agencies' Association of Nepal (TAAN) with partner travel trade associations, the representatives of seven trade associations reached to the conclusion to request the political parties and other groups to not resort to bandh and strikes, leaving the travel  and tourism sectors in deplorable condition.
On the occasion, Madhusudan Acharya, 1st vice-president of – (Nepal Association of Tours and Travel Agents) NATTA said they should also request the political parties and other groups not to call on bandh to carry out their desires.
Similarly, TAAN General Secretary Sagar Pandey floated a proposal of forming a joint coordination committee of travel trade associations to lobby with the government on important issues related to Nepali tourism sector. He also said the travel trade associations should press the government to relax customs duty on vehicles to be used by tourism enterprises.
Suman Pandey of PATA Nepal Chapter opined they could not raise strong voice unless they got rid of their vested interest. Asking the board to be mere accountable to the private sector, Pandey was in favor of making the Nepal Tourism Board (NTB) as the epicenter of Nepali tourism thereby pressing the government to make its activities more effective.
TAAN President Ramesh Dhamala said the government should control illegal operation of trekking business by NGOs, INGOs and groups or individual.