News
Early snowfall prompts mountain people for seasonal migration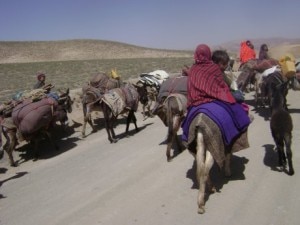 KATHMANDU, Nepal- Though It may be a fascinating view for the foreign tourists trekking on the northern belt of Gorkha district, high up in the Himalayan region,  but for the locals, mostly herders, it has added additional sufferings following the snowfall that has covered many settlements in the district.
Locals of Gumda, Laprak, Bihi, Lapu, and Barpak VDCs in the district are already shifted down to the foothills of Gorkha and neighboring districts, as a part of seasonal migration, shepherding hundreds of mountain goats and yaks, following a heavy rainfall, according to report published in today's newspaper.
Down there, the migrant villagers will spend up to six months, herding and selling the livestock to the locals and again will descend the mountain from the footstep soon after the mercury starts to rise.
'Most of the houses have almost vacated and the entire settlement will be virtually pour out within a week, except for a few elderly who are reluctant to seasonal migration', a local said adding the snow has surprised him as it has started earlier.
'Snow has taken me by surprise this time. It has started earlier. I am really concerned about my lives tocks,' he added.
Raising mountain goats is the major occupations of these migrant villagers and each family has at least 50 to 200 goats. They earned their living by selling meat, ghee and even wool of the mountain goats elsewhere in the district.