News
Nepal, China revise air agreement to let new airlines fly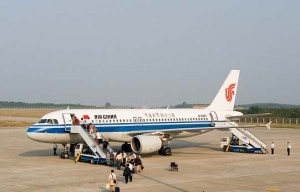 KATHMANDU, Nepal – The government of Nepal and the Chinese government are all prepared to revise the existing Air Service Agreement (ASA) between the countries.
The Chinese side has approached the government to revise air service agreement after another Chinese airline operator showed its interest to make a commercial flight to Nepal.
It is only the bilateral air agreement that allows the countries to operate commercial flights to either nation.
A Chinese delegation is likely to visit Nepal soon to revise the ASA, which is expected to increase frequency of flights between two neighbouring countries.
According to sources at the Ministry of Culture, Tourism and Civil Aviation (MoCTCA), Chinese officials may arrive in Nepal within this month to revise the ASA. The current ASA, which was signed between the two countries in 2003, allows Chinese airline companies to operate 14 flights a week.
"But since another Chinese airline company has also expressed interest to conduct flights to Nepal, ASA revision is a must," the MoCTCA official said.
Currently, three Chinese airline companies—Air China, China Southern and China Eastern—fly to Nepal.
Of these, Air China has direct flights from Kathmandu to Chengdu and Lhasa, while China Southern Airlines has direct flights from Kathmandu to Guangzhou and connecting flights to other Chinese cities. China Eastern Airlines, on the other hand, has direct flights from Kathmandu to Kunming and connecting flights to Guangzhou, Beijing and Shanghai, and other destinations in Southeast Asia, South Asia and Europe.
The Civil Aviation Authority of Nepal (CAAN) has provided 14 temporary operating permits to China for operation of these airline companies in Nepal.
According to government statistics, a total of 71,861 Chinese nationals visited Nepal in 2012, making China the second largest destination to send tourists to Nepal. In 2011, only 61,917 Chinese nationals had visited Nepal.