News
UCPN Maoist collecting disgruntles to evoke agitation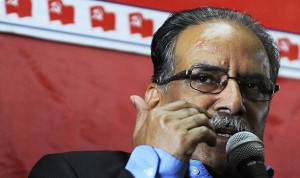 KATHMANDU, Nepal – Dissatisfied with the results of the Constituent Assembly elections  that concluded recently, Unified CPN (Maoist) has decided to go ahead with agitation. The central committee meeting of the party has directed its party leadership to go with working alliance with other political parties unhappy with the recent election results including the 33 political parties led by CPN-Maoist which had boycotted the polls.
The Unified Maoist party that was the largest party in the first CA has turned third with only 26 seats among the 240 electoral seats separated for First-Past-The-Post (FPTP) system. Stating that the results were manipulated to prove the party failure the Maoist leaders are saying 'unexpected result is the outcome of national and international grand design'. The party through a press conference has already declared that it would not participate in the constitution writing process if overall review of the election results were not entertained. However, most of the senior Maoist party leaders are even at odds in this announcement of the leadership.
According to UCPN (Maoist) spokesperson Agni Sapkota, his party will form an alliance with other disgruntled groups, mainly the UCPN (Maoist), Madhesi Janadhikar Forum-Nepal, Federal Socialist Party Nepal among others to uncover what they said is total unfair act.
While CPN-Maoist alliance has boycotted the elections, a number of other political parties and their candidates have claimed that the election process in some of the 240 constituencies was not "fair." They say the administration and the security agencies, including the Nepal Army, acted "unfairly." Among the complaining parties and leaders are election losers.
The disgruntle parties have been blaming that the administration engaged in number of fraudulent activities, including invalidating ballot papers, and depriving parties' polling agents from accompanying the security convoy while transporting ballot boxes to counting centers.
However, the Chief Election Officer Nil Kantha Uprety during a press briefing at Election Commission on Saturday had clarified that the overall election process were fair and conducted under the supervision and consent of political parties. Uprety urged the parties to move the Constituent Assembly Election Court with their complaints. The court has been authorised to settle election -related disputes.
"We conducted the election in accordance with the law. It would be better the parties seek legal recourse," CEC Uprety said.
The UCPN (Maoist) has already filed a complaint with the EC, demanding independent investigations into the 'irregularities.'