News
Capital valley sees minimal vehicular movements ahead of polls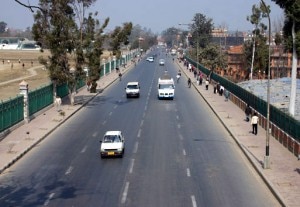 KATHMANDU, Nepal- Tomorrow is the day when Nepal votes for the Constituent Assembly which will deliver a people's constitution. But fears of any untoward incidents have forced the transporters to put their vehicles off the road. On Monday, only few public and private vehicles are seen plying on the streets.
Since the government has declared national holiday beginning Sunday to Wednesday that have some impact on capital valley traffic. But at the time when thousands of voters are willing to reach their home towns to vote on Nov 19 polls, the empty roads have symbolized their fears ahead of elections.
Also, the ongoing 10 day-long transportation strike called by agitating 33-political led by CPN-Maoist to obstruct the elections has also jeopardized the plans of thousands of people who want to reach their home towns to exercise their voting rights in the November 19 Constituent Assembly polls as transport entrepreneurs are not running the buses fearing fatal incidents.
Though the government had earlier convinced transport entrepreneurs to operate their services even during the bandh, only a handful short and long-route buses are plying.
Both passengers and entrepreneurs are terrified after the arsonists start throwing bombs to the moving buses and place bombs at various locations. So far four people have been killed in the bomb attack in capital.
According to a traffic police officer, about 200 public vehicles left Kathmandu against 1,500 during normal days left Kathmandu today.
Political parties, on the other hand, have arranged for buses to take activists and committed voters to their home constituencies.
Meanwhile, transport services in operation are charging exorbitant fares.