News
Govt. in final discussions to procure aircrafts from China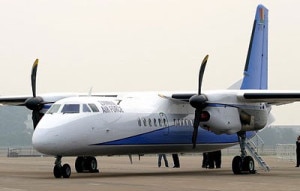 KATHMANDU, Nepal- The government has initiated a fresh discussion, which according to sources is the final one, to procure new aircrafts for the national flag carrier Nepal Airlines Corporation (NAC) from China.
And if the statement of the source is something to believe, all the procedures to buy China-made turboprop aircrafts will be completed by this month (Nov.).
However, some are even in confusion if the NAC will get the planes, as the European Commission has been showing its interest in the procurement process and even pressuring the Nepali side to cancel the process as the aircrafts lack international accreditation. The EC has even called the Nepali officials and airline operators in Nepal at its headquarters in Brussels, Belgium next week  to discuss the matter among others.
But, Nepal has started negotiations with China on various agreements meant to procure aircraft for the ailing NAC. Government officials said all the procedures to procure aircraft from China would be completed by November.
The two sides will sign four agreements—Nepal- China international cooperation agreement, grant agreement, loan and framework agreement—before the delivery of the aircraft that China had pledged for NAC.
The Nepali negotiation committee is led by Ranjan Krishna Aryal, joint-secretary of the Ministry of Culture, Tourism and Civil Aviation, and comprises representatives from the Finance, Foreign Affairs and Law Ministries and the Nepal Rastra Bank.
China has pledged a 19-seater Harbin Y-12e and a 58-seater MA60 (Modern Ark 60) turboprop planes in grant, and the government plans to buy four more aircraft—three Harbin Y-12e and an MA60—taking soft loans from the China EXIM Bank.
Following the issuance of the type-certificate to Chinese-made MA60 aircraft On October 22, allowing the plane to enter the Nepali skies for the first time for civilian transport, the Finance Ministry had fast-tracked the process of signing loan and grant agreements with China .
On November 29, 2012, NAC had signed a commercial agreement with the AVIC International Holdings, a Chinese government undertaking, to procure the six aircraft. An understanding was reached that the NAC will receive two aircraft in grant within two months after finalizing the loan agreement, and the rest after five months of the first delivery.