News
'Charge $200 per square feet for commercial flag hoisted on Mt Everest'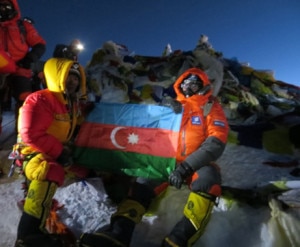 KATHMANDU, Nepal- A report submitted by the panel formed to review mountaineering royalty and mountain tourism has suggested the government of Nepal to charge royalty for the sponsors and commercial flags that are hoisted on world's tallest peak Mt. Everest.
Ang Tshering Sherpa, honorary member of World Mountaineering and Climbing Federation said that they have proposed the government to charge $200 per square feet for commercial flag in Everest and peaks above 8,000 m.
However, the expedition teams carrying flag and sign posts as well as the flag of Nepal are free of any charge, according to Sherpa.
However, for other commercial purpose, the panel has recommended the government to charge the amount for fixed duration on contract basis.
"This will not only help to regulate commercial activities but will also help solve the environmental problems caused by flags and commercial sign posts," myrepublica quoted Sherpa as saying.
The recommendation is based on a report submitted by the Civil Servant Everest Expedition Team led by the then Secretary of Home Ministry Leela Mani Paudyal in 2011.
Paudyal, who is now the chief secretary, directed the government to regulate the flags after his expedition found dozens of flags owned by international companies raised on 8,848 meter world's tallest peak.
The eight-member main committee headed by Purna Chandra Bhattarai, chief of Tourism Industry Division of the Ministry of Culture, Tourism and Civil Aviation (MoCTCA) have submitted the report to the Ministry, of late.