News
CPN-Maoist alliance sticks on nationwide strike, shutdown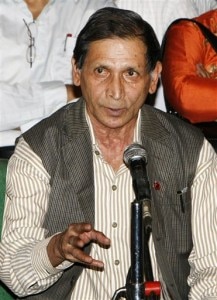 KATHMANDU, Nepal – The disgruntle faction of the Unified CPN (Maoist) party along with other 33 fringe political parties have said that they will enforce the nationwide general strike and shutdown announced by the alliance at any cost.
However, the alliance has decided to change the earlier finalized strike schedule 'to have minimal effect on people'.
The 33-party alliance led by the CPN-Maoist has announced the 10-day nationwide general strike to be called from Nov 11 targeting the upcoming elections of the Constituent Assembly.
According to CPN-Maoist sources, the alliance has decided to enforce the general shutdown strike on Nov 11 and 12. However, strike will be called off for three days from Nov 13 to 15.
The general strike will again continue until the elections day on Nov 19, according to the source.
The alliance has also decided to plan other protest programmes following the first and second day of the banda.
Earlier, the alliance has called a 10-day continue strike from November 11 against the upcoming election.
Meanwhile, various tourism and business associations have condemned strike announced by the alliance.
Issuing a press statement, Nepal Association of Tour Operators (NATO) urged the parties to withdraw the protest programmes as it will hamper the whole tourism business. Stating that such strike programmes during the peak tourist season will hamper all, the NATO urged all to find solutions through peaceful way.
Federation of Nepalese Chambers of Commerce and Industry (FNCCI), the umbrella organization of business sector has also urged the agitating parties to withdraw the bandh to save the national economy.
Saying that strike and protest are not alternatives to any solutions, the statement states that FNCCI is against these movements. "FNCCI will not favour such events as the country's economy suffers a loss of Rs 2 billion in a day's bandh." the statement read.
The federation also blamed the political leaders for not understanding the feelings of the general public and moving forward with disrupting the polls against the public's sentiment.
FNCCI has also urged the government and concerned parties and authorities to come up with the favourable solution through talks.
Similarly, Confederation of Nepalese Industry (CNI) has criticised the announcement of protest programmes citing that it is against the favour of business entrepreneurs and other daily low wagers.