News
Intl communities ask disgruntled groups not to foil upcoming polls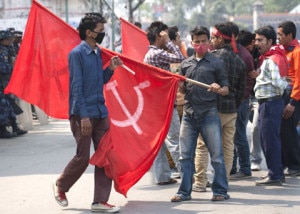 KATHMANDU, Nepal- With only 13 days left for November 19 Constituent Assembly (CA) polls, the international community,  including five permanent members of the UN Security Council—US, Russia, China, UK and France—has called on political parties engaged in anti polls activities to respect the universal principle of free elections and the rights of others.
"Bandhs or strikes, when enforced by violence or the threat of violence, are a violation of the political rights of citizens and against the laws of Nepal," said United Nations Resident Coordinator for Nepal Jamie McGoldrick in a statement issued on behalf of the international missions in Nepal.
The statement comes ahead of the 10-day strike called by the CPN-Maoist-led 33-party alliance, starting on November 11.
Stating that preventing peaceful campaigning by others is also unlawful, the statement said, "Everyone should respect the democratic right to take part in a peaceful, open and inclusive election Parties who have been involved in such actions should respect the universal principle of free election s and the rights of others."
The international community also said that it supports Nepali people in their right to express their views in peace, either as candidates or voters.
The international community has lauded the efforts being made by all stakeholders, Election Commission, political parties, interim government and the media.
UK, USA among other countries renew travel alert
In the meantime, countries including the US, the UK, Australia and Canada have issued travel alert to its citizens traveling to or living in Nepal to exercise high degree of caution amid the upcoming Constituent Assembly (CA) election.
The US Department of State, after almost two years, updated its travel alerts on Nepal on Nov 1. According to the department, the new advisory will expire on Dec 19.
The department has said there is an increased risk of violence during strikes as well as at rallies and demonstrations during this and any election cycle remains.
citing improved political conditions, the department had removed Nepal from its negative travel advisory in December 2011.
Meanwhile, the UK has also updated its travel advisory on Nov 1, which reads: "The political situation in Nepal is changeable. There are frequent bandhs (shutdowns), rallies and demonstrations, which can be violent and cause widespread disruption."
In its travel alert updated on Oct 29, Canada has requested its citizens to exercise a high degree of alert while traveling to Nepal. "There is no nationwide advisory in effect for Nepal. However, you should exercise a high degree of caution due to the fragile and volatile political and security situation," according to the travel advisory.