News
NTB makes special arrangement for tourists during CA polls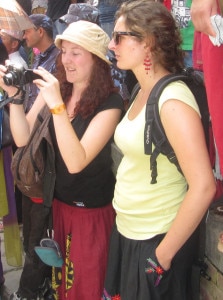 KATHMANDU, Nepal-The Nepal Tourism Board (NTB) has made it clear that there will be no inconveniences for tourists during the second Constituent Assembly (CA) polls scheduled to be held on November 19 as it has made proper arrangings for them to travel  go around without difficulties.
'Like during the 2008 CA election, the NTB will issue passes for tourist vehicles so that they can travel without obstruction,' said Aditya Baral, spokesperson of the Board said.
According to him, besides the movement of tourist vehicles, all hotels and restaurants will remain open on Election Day. The Board said it has been working on Plan B in coordination with the Home Ministry.
However, the tourists visiting Nepal via land will likely to be hit hard during polls day as all the border points will be sealed off from the evening of Nov 18 to Nov 20.
Hotel entrepreneurs said almost all the hotels are sold out for November and some of them are worried that uncertainty and security concerns will keep tourists away. They said the hotel business in the coming days will largely depend upon the condition of the country's security.
However, the government has frequently assured that hospitality sector will not be affected during polls as everything is normal as of now.
In the meanwhile, the Board has assured that it would activate its entire crisis cell to facilitate tourist movement during the 10-day nationwide strike called on by the CPN-Maoist. In a bid to disrupt the polls, CPN-Maoist with its allies 33 fringe political parties have announced the nationwide strike beginning from Nov 11.
The board has also set up tourism crisis cells at major tourist cities to deal with probable untoward circumstances and support tourists in case of emergency.
November is the peak season in Nepal when arrivals climb more than 83,000.
According to the Tourism Ministry, a total of 803,092 foreigners paid visit to Nepal in the year 2012 among whom 632,767 were first timers.
As per the data provided by the ministry, 14 percent of the total visitors visited Nepal for trekking and mountaineering while 48 percent came here for travel and holidaymaking.
Similarly, over 13 percent of the tourists in Nepal last year came for pilgrimage.
The country garnered Rs 30.70 billion from the travel sector in 2011-12 against Rs 24.61 billion in 2010-11.