News
Flock of Foreigners crowd Kanchanjunga base camp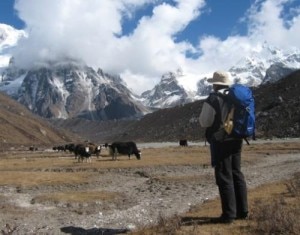 KATHMANDU, Nepal-with the onset of tourism season and steady progress in weather after the record long rainy season just a few days ago, the number of tourists heading towards Kanchanjunga mountain base camps has surged significantly in recent days.
Bansatapur, the gate way to Mt. Kanchanjunga, Mt. Kumbhakarna and Mt. Makalu, located at the eastern hills of Nepal, has been continuously witnessing the flow of domestic and international tourists from the last week, booming the local tourism business, reports from Terathum district said.
Kanchenjunga is the third highest peak in the world at 8586 meters, and is a magnificent mountain striding the border between Nepal and India. Trekking in Kanchenjunga trail begins along the Tamur River through Pipal trees and villages where traditional life is little touched by the modern world.
Tourists from foreign countries like USA, UK, Germany, India, Portugal, Nigeria, Norway, and Australia are visiting towards Mt. Kumbhakarna and Mt. Makalu to view the snow capped peaks, lovely waterfall and other natural scenery.
The area which is renowned for 28 types of rhododendron flower is also enlisted in one of the top five tourist destinations of the country by Nepal Tourism Board.
'Arrival of foreign tourists is increasing', national daily news paper Kantipur quoted local hotelier Pemba Bhotia as saying adding that hotels and guest houses of Chauki, Mudeshanischare,  Mangalbare and Gufabazaar are crowed, while all big hotels are packed.
The area which has been emerged as various observation and educational tour destination, has witnessed huge crowd of domestic tourists from Kathmandu, Pokhara, Butwal, Chitwan, Dharan, Biratnagar among other places, according to local entrepreneurs.
Prakash Shrestha, member of the Tourism Development and Promotion Committee at Terhathum said that they are witnessing a whooping growth in the numbers of both the domestic and foreign visitors. The place is prosperous in its natural beauty in bio-diversity beside availability like electricity, telephone, internet etc.