News
Ex CA member held for slaying CA polls candidate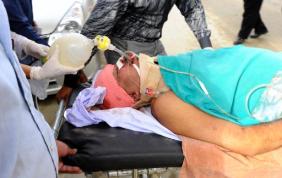 KATHMANDU, Nepal-A rival from his own party was among three people held for slaying a constituent assembly election candidate Mohamed Alam at Bara district in southern Nepal, three weeks ago.
Mohamed Alam, a CPN (UML) candidate for the November 19 CA polls was killed by a rival from his own party Ramchandra Pyasi Kushwaha with the help of Indian assailants Atik Khan and Raju Srivastava.
Kushwaha is a former CA member, elected in 2008 polls while Khan operates a business in Birganj and Srivastava is from Indian border city of Raxual, according to police.
They hired professional assassins to kill Alam, a day after he was announced as a candidate from Bara – 4 constituency.
Alam was shot outside a flour mill on October 4 by two assailants on a motorcycle with Indian license plates and died while receiving treatment at a hospital in Kathmandu, a week later.
According to the police, there had been two previous unsuccessful attempts to kill Alam.
The CA polls is expected to be polluted by violence while the breakaway CPN-Maoist has declared that it will disrupt the polls and its main target will be candidates of it mother party UCPN (Maoist).
In the meantime, the total number of voters for the November 19 Constituent Assembly (CA) elections is slightly over 12.14 million, the Election Commission (EC) said on Sunday by publishing the final list of the voters.
Spokesperson at the EC Bir Bahadur Rai said that the final list of the eligible voters aged 18 was made public. According to Rai, Kathmandu district has the highest number of voters while Manang has the lowest number.
A total of 532,110 voters have been registered in Kathmandu district. Similarly, Manang has 4,795 voters.