News
NRNs to build five-star hotels in joint investments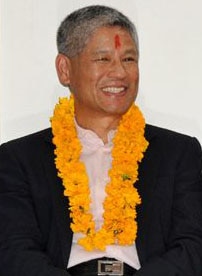 KATHMANDU, Nepal- The Non-Resident Nepali Association (NRNA) has said it will open a five star hotel with collective investment from its members.
The association of the Nepali diaspora plans to operate a 200-room hotel with deluxe facilities under an international brand name. Kathmandu, Lumbini and Pokhara are some of the locations the NRNs are considering for the proposed hotel, which is expected to provide employment to 400 individuals.
"Many companies are ready to come here," said Shesh Ghale, newly elected NRNRA president, at a press meet on Saturday. He said they would start to look for locations for the hotel without any delay.
Ghale is also personally investing in Sheraton Kathmandu, a five-star property. He said his experience in getting things done to open a hotel would help the NRNs in making joint investment in the hotel. "In the initial phase, a few of us will invest for carrying out feasibility study which will require around $50,000-60,000," said Ghale. "Once we start the work, we will call for investment from other NRNs."
Ghale said they opted for the hotel project first as "it is viable" and "will make a positive impact" on the economy.
The meeting of the NRNA International Coordination Committee held on Friday also decided to establish a relief fund targeted at Nepali migrant workers, in which Ghale has contributed Rs 10 million. The association said it will expedite the work on preparing the operation modality and resource collection for the fund.
The association has also decided to move ahead with joint investment from NRNs in projects that create employment and help develop physical infrastructure. Ghale said they will work for developing entrepreneurship. Besides, the NRNs have said they will continue to lobby with international communities for bringing foreign direct investment in the country.
A detailed discussion on potential projects and necessary studies are under the association's priority. Ghale said they would continue to invest in hydropower and infrastructure development. With legal recognition after being registered in Nepal, the NRNA has plans to build its own building for which a committee under the coordination of Ghale has been formed. Ghale has pledged Rs 10 million for the building.