News
India starts supplying arm to Nepal a head of crucial CA polls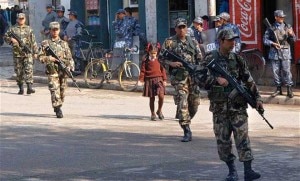 KATHMANDU, Nepal-The government of India has handed over 360 vehicles, including 25 mine-protected fomites to the government of Nepal a head of crucial Constituent Assembly (CA) polls in Nepal.
Ending an eight-year-old forbid on military supplies, neighboring India provided such amount of military support as well as arms and ammunition, which are in the pipeline, will come soon, Friday's issue of Rajdhani national daily reported quoting a source at Army headquarter.
This is the first time that military equipment is being offered to Nepal by neighboring India after ending a ban on the supply of such equipment, including mortal arms, that was imposed when ex King Gyanendra Shah took executive powers in February 2005, according to news sources.
India had nodded to supply the equipment on the occasion of the tenth meeting of the Bilateral Consultative Group on Security Issues held in April.
A total of 62,000 troops who are assign to maintain tough security in the November 19 polls will require modern artillery equipment to ensure the top security during the polls to which dozen fringe parties including Maoist faction led by Baidhya have frequently tuning their warning tone to foil the polls at any cost.
Armies of the both the nation have expressed confidence that the assistant though it was relatively small would help boosting and further deepening mutual cooperation between South Asian's two close neighbor.
The arm support is thought to help polish regular operations of the NA besides overhauling the force and boost its efficiency for military operations during the polls period.
'This will also help in strengthening and further deepening Nepal-India relation,' an official statement issued Thursday read.
The government, of late, amended the constitution to allow the army to be spread 'to ensure free and fair polls.'