News
Nepal experiences unexpected weather condition following 'Himalayan Tsunami'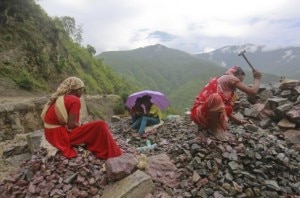 KATHMANDU, Nepal- Nepal experienced an unexpected and continuous rainfall for  four consecuetive day on Wednesday due to the impact of the Cyclone Phalin dubbed as 'Himalayan Tsunami' in the Bay of  Bengal.
The eastern region experienced heavy rainfall on Wednesday as well while the sky was moderately apparent in the central and western part of the country.
The minimum temperature of Kathmandu on Wednesday was between 15 to 16 degree celsius and maximum 20.1 degree celsius, according to the Meteorological Forecasting Division (MFD) adding that the weather condition is likely to improve by Thursday.
MFD said the incessant rainfall in the country, which dampened festive mood of people during the four important days of Dashain, was contributed by the Cyclone Phailin in the Bay of Bengal, which caused havoc in Indian coastal states.
Normal life out of gear in Everest region
In the meantime, normal life in Solukhumbu district has been hit hard following the heavy snowfall triggered by incessant rainfal for the last four days.
The thick snowfall blanket most of the places in the district paralyzing the normal life in Khumbu, reports from the district said.60to 70 to 80 centimeter of snow-covered road crippled the movement and the daily activities of locals have been thrown out of gear in Lukla, the gate way to Everest, Namche Bazar among other places and all the prescheduled flights in Tenzing-Hilary Airport, also known as Lukla airport have been affected.
About 80 centimeter of snow has covered the area wher the Pyramid Observatory Laboratory established at the height of 5050 meter at Lobuche.
'Disaster within Disaster'
The official death toll following Cyclone stands at 580 but at least 3,000 people are still missing, according to Vijaya Bahuguna, the Chief Minister of Uttarakhand state.
However, Action Aid India estimated that the death toll alone could climb to 5,000 people.
"Initial assessments suggest 300,000 people have been affected, 50,000 displaced and roughly 10,000 injured in the affected region," the charity said in a statement on Thursday.
According to some reports, the monsoon rains arrived two weeks before they were due in the region and were the heaviest in 60 years.
Some aid workers warn of a "disaster within a disaster" if more such rainstorm take place.
The Indian government says there is also a risk of more landslides and floods with more heavy rains.
Many environmentalists in India say 'the over-exploitation of India's ecologically sensitive Himalayas – for hydropower, logging and religious tourism over the last few decades worsened' the level of destruction.
"There are of course links between climate change and extreme weather events as has happened with the torrential rain in Uttarakhand,"   firstpost.com quoted Sunita Narain, director of the Delhi-based think-tank Centre for Science and Environment as saying