News
Huge outflow of festive crowd empty capital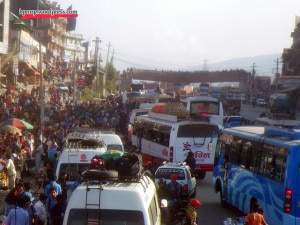 KATHMANDU, Nepal- Around 2 million people are expected to leave the valley for their hometowns to celebrate Dashain giving the capital city a deserted look. The Metropolitan Traffic Police Division Kathmandu has forecasted the outbound numbers calculating the ongoing outflow of people from the Kathmandu Valley.
According to the preliminary report of the National Census 2012, Kathmandu accommodates nearly 3.5 million population from all over the country.
As the educational institutions have closed for a month till Tihar or Dipawali, students and their parents have started departing the city for homes.
According to the MTPD, more than 1 million people have already reached their destination in the last 20 days and the number is expected to increase threefold by the seventh day of Dashain (October 11) when all the institutions and offices will be closed for a week for the festival.
About 1,100 buses, minibuses and micro buses have started ferrying passengers to their destination. And around two lakh people have booked bus tickets till Saturday.
More than 3,700 vehicles, both four-wheelers and two-wheelers, en-route to different parts of the country, are leaving through Nagdhunga, Pharping, Bhaktapur and Balaju every day, informed DIG Keshav Adhikari, MTPD in-charge. On normal days, around 2,000 vehicles ply these road sections, he added.