News
Devastating avalanche in Mt Annapurna has no link with Climate change: Scientists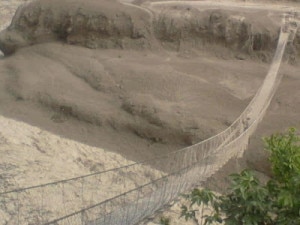 KATHMANDU, Nepal-Experts and Scientists have concluded that a devastating avalanche in the Mount Annapurna, that took place Seti River on May 5, 2012 in Pokhara Valley last year has no connection with climate change.
A report prepared after a year by a committee comprising of scientists from National Aeronautics and Space Administration (NASA) of the United States, reached to the conclusion that the sudden avalanche and flood in the river that killed 77 people in Kaski district was not due to the effect of 'climate change´.
The report said that there is no tangible evidence to claim that the flashflood was triggered by climate change.
"The flood was the result of the geological changes in the Himalayan region," myrepublica quoted Dr. Jeffrey Kargel, who is affiliated with NASA, as  saying adding that disaster might take place at any moment without the affect of climate change.
Kargel, who is also affiliated with the Department of Water Resource in Arizona University said  an avalanche in the Mount Annapurna, the very source of the Seti River, had created a huge pool of water in a nearby gorge and the flood had resulted from the burst of the same pool.
Dhananjaya Regmi, another member of the study team and affiliated with Himalayan Research Center, also opined that avalanche might also occur due to cracks and movements of the rocks rather than climate change  in the Himalayan region.
Likewise, Dr Krishna KC, professor of geography at Prithivi Narayan Campus and a member of the study team, informed that they had studied satellite images, silts deposited by the flood, among other determinants, to reach to the conclusion regarding the cause of the Seti flood.