News
Slapper Padam contests CA polls against Maoist's Dahal, fields independence candidacy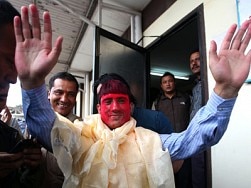 KATHMANDU, Nepal-A disgruntled former United Maoist cadre who came to highlight after slapping the country's leading left-wing politician and United Maoist Party's supremo Pushpa Kamal Dahal has announced plans to fight against Dahal in the upcoming constituent assembly polls.
Padam Kunwar, a 26-year-old chef, who slapped chairman of Unified Communist Party of Nepal (Maoist)  Pushpa Kamal Dahal in a public programme a few months ago registered himself as an independent candidate from Kathmandu Constituency No 10 from where Dahal is also contesting the polls.
'I have filed my candidacy to win the election rather than to beat anyone',  Kunwar, who was a member of the Maoist party until June last year, told reporters in Kathmandu on Thursday after filing his nomination .
He claimed he have no enemy with Dahal and was not standing against him but to represent jobless and unluckily youth of the society. He also opined that one should not harbour grudges against a top bras in politicians.
Nevertheless,  Kunwar boasted that he was confident of winning the polls  from the constituency.
In the meantime, more than 500 candidates contesting the first -past-the-post election filed nominations in all the 240 constituencies in all the 240 constituencies, and the process was completed peacefully across the country amidst warning to foil the polls by CPN-Maoist-led 33-party alliance.
EC Spokesperson Bir Bahadur Rai said of the 5,000 or so candidates, 549 were independent. This figure, however, does not include constituencies of seven districts, which would be known Friday.