News
Hunting season at Dhorpatan Reserve begins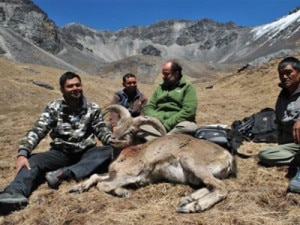 KATHMANDU, Nepal- Dhorpatan Hunting Reserve, the only hunting reserve in the country where licensed hunting is allowed, has opened this year's first hunting season with the beginning of the month of October. According to the Reserve office, foreigners have started arriving at the reserve area for hunting. As many as nine trained hunters from different countries have booked their entry for the first season of hunting this year, the Reserve office said.
The National Park and Wildlife Department has fixed 13 Naur and six Jharal for hunting in this season.
A total of 11 Naur (Himalayan blue sheep) and four Jharals (wild mountain goats) are proposed for hunting so far, said the reserve source.
The first session of hunting starts from mid-September till mid-December, Chief of the Reserve, Bishwo Babu Shrestha was quoted as saying in a news report by state run news agency, RSS.
Two Spanish nationals, two Mexicans through Track and Trails Pvt. Ltd., two Americans through Nepal Wild Life Adventure Pvt. Ltd. and two Russians and a Danish national through Nepal Hunting Safari have acquired hunting licenses for this season.
The hunters will hunt in the areas of Seng, Gustung, Fagune, Barse and Dogado block. Though Sundaha block has also been opened, it is isolated due to its remoteness as no hunters are willing to reach up to the block, the reserve office informed.
Though the office till last year fixed minimum of Rs. one lakh 60 thousand to one  lakh 87  thousand for hunting a Naur (Himalayan blue sheep) or  Jharal (wild mountain goat), hunters have to pay at least Rs. one lakh 65 thousand to Rs. three lakh 20 thousand this season.
Established in 1987 the reserve covers an area of 1,325 km2 (512 sq mi) in the Mount Dhaulagiri of western Nepal in the Rukum, Myagdi and Baglung Districts. In altitude it ranges from 2,850 to 5,500 m (9,350 to 18,000 ft).
One of the prime attractions for hunters in the reserve is the blue sheep, which is abundant in the region. Hunters also get pheasant and partridge in viable populations for hunting. Other animals found here are leopard ghoral, serow, Himalayan Thar, Himalayan Black bear, barking deerm wild boar, rhesus macaque, langur and mouse hare. Endangered animals in the reserve are musk deer, wolf red panda, cheer pheasant and danphe.
Fifty-eight vascular plants have been recorded as present in the reserve. Flowering plants comprise 36 endemic species. Faunal species cmprise 18 mammals including snow leopard, musk deer and blue sheep; 137 birds including Koklass pheasant, Cheer pheasant and Impeyan pheasant; and two herpeto species.
Hunting is one of the adventure tourism attractions for tourist visiting Nepal. Hunters used to stay in the areas for month in tent. Some of them even charter helicopter to reach the area.