News
Gateway to Mt. Everest, Jiri to have facelift into a model city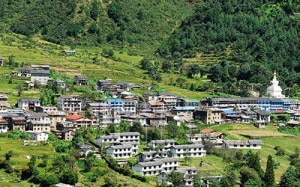 KATHMANDU, Nepal- Jiri, a major tourist destination and a gateway for trekkers and for mountaineers headed for Everest base camp will have a facelift shortly under the government´s efforts.
The village that has been compared to the Swiss city of Zurich for its beautiful natural landscapes will soon be  converted into a model small city of Nepal. Jiri Village Development Committee (VDC), which is 190 km from Kathmandu in Dolakha district, is the only easy gateway to reach the Khumbu Valley and Mt. Everest base camp if one opt to trek apart from flying up to Tenzing Hillary Airport in Lukla.
The Department of Urban Development and Building Construction under the Ministry of Urban Development has already initiated steps for a field visit and for designing the required physical infrastructures.
Officials from the Swiss government have worked on physical infrastructure there for a decade. The project had left the place six years ago. According to the government official, the government has prioritized the project in order to continue the works initiated by Swiss government.
"Before their departure, the Swiss enhanced the beauty of Jiri VDC to another level altogether and now it is our responsibility to manage that enchanting beauty. Jiri will turn into a model small city," a report by Republica daily quoted chief of the Roads Division Office Dhulikhel, Dilip Bhandari as saying. He informed that the government has proposed to develop 132 similar model small cities in the near future.
According to department officials, Simeka Consultant has visited various part of the VDC and identified the areas needing physical development. Based on its report, renovation will be focused on the Jiri market area and other points adored for sightseeing.
"Jiri bus park, roads, bridges and Jiri airport will undergo renovation. A large open area will be used for development purposes, and tourism related sports activities will be introduced," said Bhandari. "View towers and a height altitude center will also be developed," he added.
Sacchindra Dev, engineer at the Roads Division office, said that until now they have received a total of 13 plans for Jiri´s development.
The Ministry of Urban Development has proposed to issue a grant of Rs 10 million as preliminary expenses for the project.