News
Ev-k2- CNR, NAST's joint initiation for better economic prosperity: President Agostino Da Polenza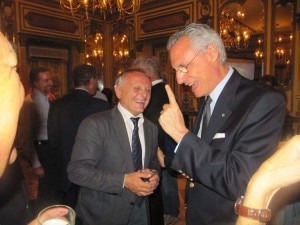 KATHMANDU, Nepal-President of Ev-k2- CNR committee, Agostino Da Polenza said Ev-k2-CNR and NAST have been working in Nepal since 25 years for the better economic prosperity of Nepal and Nepalese people along with scientific, environment and mountaineering research activities which are being carried out beneath the roof of the world, 8,848 meter high Mount Everest.
During a programme held in the Capital Kathmandu on Saturday to launch new mission- a particular project Cobat- after 25 years of round-the-clock-research activity after setting up Pyramid Laboratory Observatory at the height of 5050 meters in Lobuche by Ev-K2-CNR, president Polenza said, 'we have here in Nepal for more than two and half decades and the Italy is always assisting to Nepal in terms of high altitude research, environment and scientific activities. We have a lot of friends, scientific collaborators and institution like Nepal Academy of Science and Technology, (NAST), Ministry of Environment, Science and Technology, ECIMOD for the scientific research.'
Da Polenza said he was always feeling to be under the roof of the world while visiting Nepal and said the occasion was especially grand and 'particular evening'.
Informing that they are launching the new mission COBAT, in Pyramid, president expressed confidence that the mission would be a mile stone in the field of science and technology between the two countries.
'Now we see the picture of Mount Everest, it is the icon of relation between the two countries,' Polenza said pointing out the images of the world's highest peak while explaining video that featured the activities of Ev-k2-CNR and COBAT.
On the occasion, president of COBAT Giancarlo Morandi said he was glad to recycle the solar panel and battery in Pyramid laboratory established in Khumbu. COBAT is an Italy based private organization which is also working since 25 years.
It is the first ever organization to collaborate in the sectors of batteries first in Italy and then in the rest of the world. It changes solar panel and battery to take waste away.
During the programme, Ambassador of Italy in New Delhi, Daniele Mancini hailed the role of Ev-k2-CNR in environment and scientific development.   Mancini said he was feeling emotional to be with Italian community and their Nepalese counterpart here in Kathmandu. He also vowed to keep close relation with NAST.
In one context, he shared his wonderful meeting with Nepali Sherpas who were in Karachi in an attempt to scale Mount K2. Ambassador Mancini also stressed the need to set up Italian embassy her in Kathmandu.
On the occasion, Dr. Chiranjibi Regmi, Chief of planning division at Nepal Academy of Science and Technology (NAST) reviewed the history of cooperation between Ev-K2-CNR and NAST.
Dr Regmi recalled the time when the government of Nepal nodded NAST for the joint collaboration with Ev-K2-CNR in 1990. He said that NAST was feeling proud to work with Ev-k2-CNR in scientific research and environment conservation at the roof of the world. He informed that numerous research works were carried out with the establishment of Pyramid Laboratory Observatory at the height 5050 meters.
During the programme, videos about Ev-K2- CNR and COBAT were presented featuring research and innovations, mountaineering activities, new technology and environment, Sherpa's culture, religion and tradition among others issues.
Italian consulate in Kathmandu, secretary at the Ministry of Environment, Science and Technology, high ranking government officials, staffs and representative of NAST, Italian community in Kathmandu among other dignitaries also took part in the programme.