News
Airline operators defer protests, but extend programmes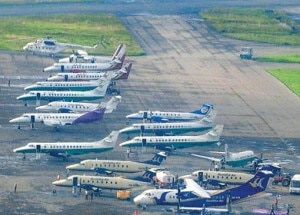 KATHMANDU, Nepal- The airline operators who are in protest against the government for the latter's decision to hike aviation fuel price, have deferred the protests for some days with changes in their protest schedule.
The executive meeting of Airline Operators Association of Nepal (AOAN), announced a series of protest programmes to be held at Tribhuvan International Airport (TIA) and the regional airports starting from September 29.
Releasing a press statement, AOAN has expressed its dissatisfaction over the government not showing concern regarding the demand of airline operators of the country.
It said that it will start its protest programme from September 29 by wearing a black ribbon during work at TIA and the regional airports from 10am to 11am and further extend the programme till October 3.
Accusing the government of raising the price of aviation fuel without any consultation with the officials concerned, the AOAN has called on the government to roll back the decision as soon as possible.
Claiming that NOC has hiked price of aviation fuel to compensate the loss on diesel and kerosene, distressing scores of the passengers and airlines operators, the association has warned of halting aviation services before the Dashain festival issuing a 15-day ultimatum soon after the NOC hiked fuel prices on September 17.
The Association has also submitted a three-point demand to the Minister for Culture, Tourism and Civil Aviation on last Wednesday.
The association has also asked for the evocation of the government policy of raising price of aviation fuel significantly to provide subsidy on diesel, kerosene and liquefied petroleum gas (LPG), according to President of the Association Captain Rameshwore Thapa.
Thapa warned that the association would initially halt the services for two hours a day, followed by half of the day and eventually the whole day if the demands were not fulfilled within two weeks.
It is estimated that nearly 1.50 million Nepalis will be affected due to the government's policy of providing subsidy on other fuels raising the price of aviation fuel.
NOC on Tuesday had raised the price of aviation fuel from Rs 130 a liter to Rs 137. It had also raised its price last month by Rs 10 from Rs 120.
Different student unions are also protesting the government for the increased fuel price, which will increase the price of daily commodities during the festival time.