News
Tourists arriving Nepal, visiting tourism sites to enjoy warm welcome on World Tourism Day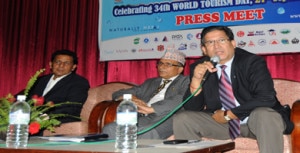 KATHMANDU, Nepal- Are you planning to visit Nepal this season? Then why not on 27th of this month? Because there are many reasons behind. On the occasion of 34th World Tourism Day that Nepal has decided to celebrate amidst ceremonies, tourists arriving in Nepal and those visiting different tourism sites within the country will be honoured with a splendid reception.
Tourists can enjoy various surprise welcome treats on the day of September 27 as the government, Nepal Tourism Board (NTB) and travel trade organizations have decided to celebrate the WTD by laying on a grand welcome to foreign visitors at tourism sites and entry points across the country.
In the treatment lists, tourism stakeholders have planned to welcome tourists arriving at Tribhuvan International Airport (TIA) and Pokhara Airport. Overland tourists will be welcomed at different border points. Food and street festivals have also been planned in major cities for a week.
During a press meet organized at NTB, various tourism related organizations, hotels, restaurants among others have announced wide package of surprises for tourists targeting the day.
The Tara Gaon Development Board will be providing a 25 percent discount on breakfast, lunch and dinner at Fewa Restaurant, Pokhara Resort, Kakani Resort and Nagarkot Resort.
Similarly, all member hotels of Hotel Association Nepal (HAN) will be providing free accommodation for four nights to five tourists chosen by a draw of lots. All the tourists will be offered a 25 percent discount on food on Sept 27. The Narayanhiti Durbar Museum has announced free entrance for the first two tourists , and the Tourist Guide Association of Nepal will be providing free half-day sightseeing at Kathmandu Durbar Square. The Bhaktapur Tourism Development Committee will be issuing 20 percent discount coupons from all the tourist counters in Bhaktapur.
Meanwhile, the Royal Enfielders and the Chitwan Enfielders will be organizing Enfield motorcycle rides on the Dharan-Kakkarbhitta, Narayanghat-Lumbini-Sunauli and Kathmandu-Kodari routes. The Nepal Association of Rafting Agents has announced a 20 percent discount on rafting packages on the Trishuli and Bhote Koshi rivers on Sept 27.
Similarly, Kathmandu Metropolitan City will allow free entry to foreign tourists visiting Kathmandu Durbar Square on the day.
In the same way, the Restaurant and Bar Association of Nepal Pokhara Chapter will be organizing a mini street festival to mark the occasion.
The theme of this year's WTD is Tourism and Water: Protecting our Common Future, in support of the United Nations International Year of Water Cooperation. This year's theme highlights the role of tourism in water access and shines a spotlight on the actions currently being taken to contribute to a more sustainable water future and the challenges ahead. Viewing the same, a clean-up programmes will be conducted at various religious and tourism sites and rivers.
Secretary of the Tourism Ministry Sushil Ghimire said the government was committed to launching new activities in the coming years apart from holding the traditional celebration of WTD. He added the government had started work to amend various tourism regulations and policies as they had become outdated.
"As Nepal's major tourism products are linked to water resources, the event will highlight the importance of tourism and water on the country's economy and its sustainable development," said Mohan Krishna Sapkota, spokesperson for the Tourism Ministry.
Speaking at the program, Subash Niraula, acting CEO of NTB, said tourism and water resources are two key sectors for national economy. "The celebration this year will focus on raising awareness among people on usability of water resources," he added. Lauding the ongoing Bagmati River cleaning campaign, Niraula said existing water resources, including public taps, wells, rivers and water spouts, in the capital will be cleaned on the day.
"We will try to attract more tourists by promoting water tourism in Nepal," he added.
NTB has tied up with more than 27 travel trade associations and private firms to celebrate World Tourism Day.