News
'Lack of effective branding mar Nepali tourism'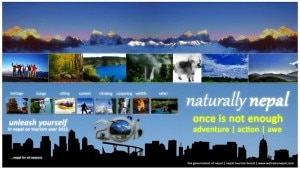 KATHMANDU, Nepal- 'Naturally Nepal. Once is not enough!' This is the slogan that Nepali tourism sector has been using for the last few years to promote national tourism in the international arena. But, experts said, this has not proved adequate and has not been promoted the country properly.
They, while sharing their experience at the tourism conclave organized here on Thursday September 19, 2013, said that lack of aggressive branding is the great set back that costs Nepali tourism despite its high potentials.
The existing branding of Nepal's diverse tourist destinations has not been effective and that the country has not been able to get the right value for its products, experts opined during the conference organized to garner broad understanding among stakeholders to prepare a road-map to develop Nepal as a premium tourism model.
Nepal should move for high value market tourism, they said.
Secretary of the Ministry of Culture, Tourism and Civil Aviation Sushil Ghimire said the lack of direct air connectivity with Europe and the US was the major hindrance for Nepal's tourism development.
"This has made Nepal an expensive destination as 70 percent of the travellers' budget is spent for airfare," Ghimire said, admitting that the average spending of tourists in Nepal is dropping each passing year. The ministry statistics show the per-day spending of a tourist has dropped to $35.6 in 2012.
Stating that the government has taken a number of initiatives for the tourism development in the country, Ghimire said, "The government is ready to revise the policies and plans to create a conducive investment environment and encourage private sector participation in tourism".
"As positioning and branding idea of Nepal is not effective, it is selling its products very cheaply," said Amitabh Kant, who is credited for leading the successful "Incredible India" campaign.
He said there are a few destinations like Nepal endowed with all natural gifts. "However, it's like a sleeping elephant for Nepal. And it signifies the gap between the performance and potential."
Kant presented a six-point to-do list for Nepal to attract more tourists including the need for a stable government, capacity building of service providers, effective communication and promotional strategy, convergence of tourism with other government stakeholders, community participation and open sky policy.
Shreejana Rana, director of Hotel Annapurna said, "We are aware that tourism industry in Nepal has taken some hard knocks in the last decade. Political instability is the other issue at present".
"However, we just cannot sit and stare idly at years of our hard work and investment being blown away senselessly," Rana said, urging the government to create a conducive environment to invest.
The conference was focused to explore ways through deliberations and interactions of all major stakeholders of Nepali tourism to develop a premium tourism model.
Various leading stakeholders from Nepal Tourism Board, hotels, resorts, domestic airlines, international airlines, helicopter services, adventure services, ground transport, tour operators, banks funding tourism initiatives, IT-telecom services for tourism, major airlines, tourism focused media among others have participated the conclave.